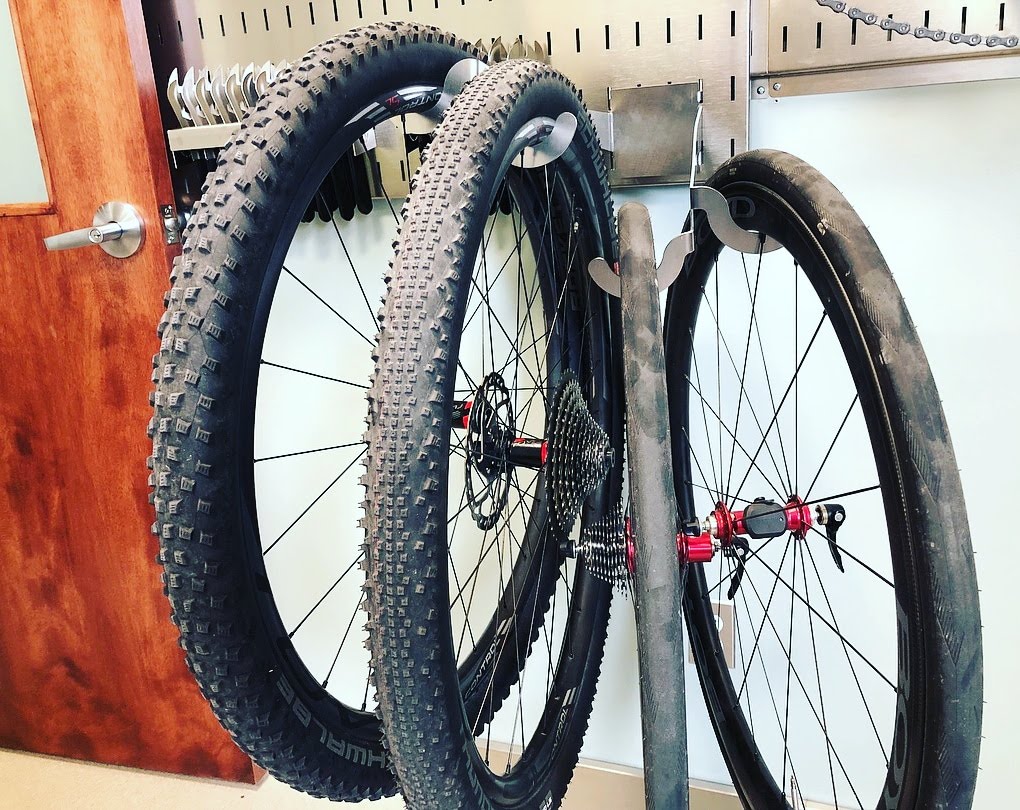 More bikes than ever can run more wheel sizes and tire widths than ever. We take a look at a few of our favorites and offer a way to store all those spare wheels.
Back in my day, there were road bikes that ran skinny tires, cyclocross bikes that ran slightly wider tires, and mountain bikes that, even at 2.35" maximum, were referred to as 'fat bikes'. Oh, how young and naive we were. Without even entering the world of the real, four-inches-and-more tires and that middle ground known as 'plus' bikes, there are plenty of variations of tire widths, and all were forced to fit rather snugly (literally) into the bike frame that you always had. That's changed, and with even WorldTour riders going with ever-wider tires, clearance isn't just a talking point; now, it's often the first question riders ask when they look at new bikes.
First off, we love the idea of having a bike that doesn't just do one thing. Of course, if all you want to do is ride pavement and win the town line sprint, you don't need something that fits wide tires, and hey, more power to you. But if you want something that opens up new places to ride, new races, and new adventures, getting something a bit more versatile is a really good way to get the most bang for your buck.
The Wheels.This new generation of bikes offer loads of tire clearance, and a lot of that clearance is earned by moving from a traditional 700c wheel to a 650b wheel, a size you've seen before in junior sized road bikes and in the mountain bike world as 27.5". By shrinking the wheel, you open up more breathing space, and room for more rubber, and pinch points in the frame near the seat stay, chain stay, and forks. While most are optimized to run a 650b tire around 47c, many can fit as wide as a 2.25", turning a road or gravel bike into a pretty serious off-road candidate as well.
For trail and loose gravel, riders will swap in a wider tire on the smaller wheel, while sticking to 700c for firm gravel and pavement.
If you've got two wheelsets, you'll probably have one set-up for trail and another for pavement.
The Tires. The world of tires in cycling is expansive and nearly endless. What you choose typically depends on where you spend the most time pedaling and how many wheelsets you have bouncing around. Friend of up.bike, Cody Sovis, rides a 3T Exploro that easily fits 2.25" 650 tires, and he opts for a total of three wheelsets on a rotating basis. One is setup with cushy 28c tires for pavement, another with 35c gravel tires, and a third with 2.25" Schwalbe Thunderburts on 650b wheels. The three wheelsets cover pretty much all terrain and conditions, and bikes likes the Exploro are becoming more and more common each season.
The Bikes. 'All-road', 'new road', 'adventure bikes'. A lot of names, but this new era of bikes all share the ability to run more rubber while maintaining most of the geometry and component characteristics of their pavement-bound brethren. The 3T Exploro, Rodeo Labs TrailDonkey, and other handmade brands are the well-known blingships, but nearly every manufacturer has an option these days, from Specialized to Giant to Norco.
For anyone in the market, we'd make one recommendation. If possible, look for a bike that comes with 650b wheels stock. Chances are, you may already have 700c disc wheels from a previous bike, or may have an easier time finding a less expensive, used, or discounted set than coming across cheaper 650b options. Getting 650b stock means you'll be getting that wheelsize and that tire size to add to what traditional wheels and tires you already have. Brands like Kona get it; most of their Rove line-up comes with 650b wheels for that very reason.
Cody is one of our main product testers, and he asked about a way to store all of these wheels a few months ago. After some testing, we designed the Wheel Tree. The mount works with our Wall Rail so you can move it anywhere on the strip, and holds four wheels, which is conveniently how many he had to store while his third set is in use. If you have a cramped garage and swap things out in a hurry, then you know how easy it is to put wheels down, kick them over, knock them over, or leave them at the mercy of chance. The Wheel Tree is just another way we help not only organize your cycling gear, but keep it save and save you money to buy more cycling stuff...you know, like an all-road bike.