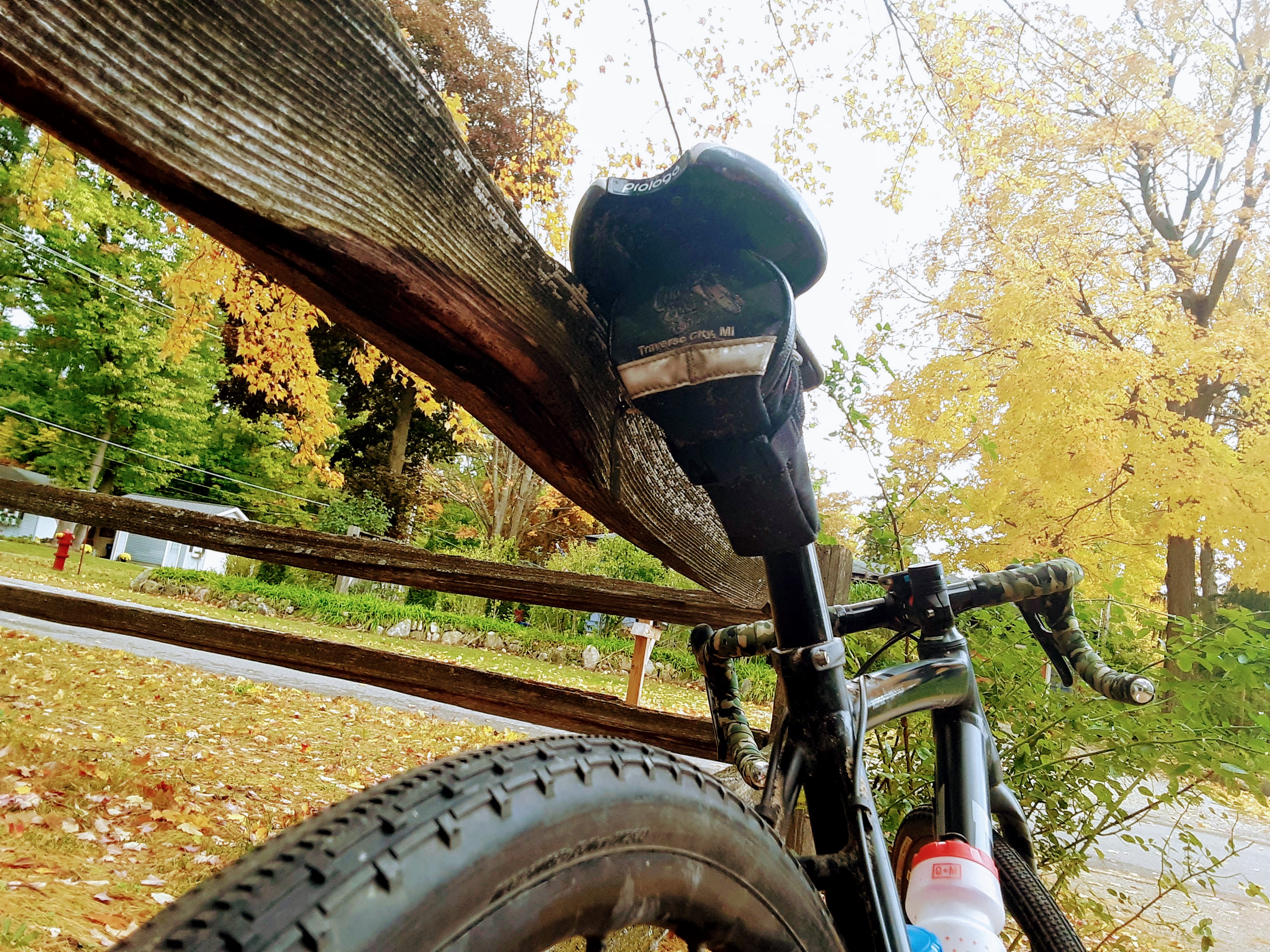 As we gear up for the Iceman Cometh Challenge, we're not taking any chances on race day. Especially at a race where adverse conditions aren't just a concern, they're often the main show, having the right tools and gear on course can make the difference between finishing and phoning a friend.
For a lot of us, winning isn't the main, or even secondary objective. We're lining up to see what we're capable of, pushing our own limits rather than looking for a big cash purse or the glory of winning an amateur bike race. It's certainly fun to beat your pals or the guys and gals you race with every weekend, but at the end of the day, we're there to ride, and to finish. Nothing ruins that fun like a flat tire, a broken chain, or a bent spoke. We got to talking about not just the best ways to carry your kit, but what it should realistically included.
Under the Seat. The classic way to be self-sufficient out on the road or trail. Many of the vain riders we know simply refuse to use a seat bag on their shiny race bikes, opting instead to cram their tube and tools in pockets. While we admit to 'going through a phase', for the hurried, working cyclists, the ten seconds it takes to remove those items after a ride, then replace them into a pocket the time out, is both wasteful and dangerous; what if you forget? Forgetting seems to happen to everyone, especially that one riding buddy who never has a tube, lever, or Co2 when they flat.
The Chopped Bottle. Classic. Old pros love this one, because it allows them to leave their seat clean and clear, but they still have the essentials. To us, it doesn't make a ton of sense; it uses up a bottle cage, plus you can't fit all that much into a half a water bottle. For shorter rides, it's a good option, and the prevalence of 'keg' bottles that have lids, plus bikes with three or even four places for bottle cages means this might catch on.
The Frame Bag. Whether it's a top tube bag or a full frame bag, you can fit all your flat kits, extra clothing, and even a picnic lunch in most frame bags. We dig these for fat bikes or really long rides, but they add a lot of weight for every day use. Still, we know plenty of riders that put a frame bag on for a long ride and end up leaving it on for weeks, enjoying the convenience of having everything you could want along with you for every ride.
What's in there? We asked some of our product testers to show us what they take on every ride, and where they store it.
Cody Sovis, 3T Q+M. I ride one bike almost 90% of the time, so it's really nice to be able to just leave everything in the saddle bag and not have to worry about it. I typically have two Co2 cartridges, a 23-28m road tube that works just fine with wider cyclocross tires, a lever, and a multi tool. For really long rides, or big group rides, I also have a kit that has another spare tube, a pump, a Scout Tool, and another lever. I think bringing spares for other folks is a habit I picked up from working at a bike shop; when things break, everyone always looks at the shop guy. Once I'm done racing for the year, the weather is usually pretty brutal, and I'll put a frame bag on my bike for to carry a rain jacket, spare gloves, and even an extra light if it's going to be a long one. If I'm not racing, I'm not leaving home without all the stuff that might make the ride more comfortable.
Mike DeBruyn, up.bike. I always bring two tire levers, one 20 gram CO2, a tube, and a valve. This stuff usually just makes it into my back pocket. Of course, I always have a Scout Tool, too. I always try to get in the habit of keeping a quick link on the tool, because I seem to have a lot more chain issues that flat tires.
Wes Sovis, kolo t.c. Just the essentials. I carry a big 40 gram CO2 cartridge, but no tube. Either that tire holds air after a few shots or air, or I'm flagging someone down for a tube. I'll also carry a lever and a multi-tool. Anything more than a flat, I'm not super comfortable fixing, so if the bike is rolling, I just keep pedaling. I have a seat bag that holds this stuff pretty easily, but this is a good reminder to get in there and make sure all my stuff is ready to go!
Dan Ellis, up.bike. For mountain biking, one cartridge is enough. I also take a multitool with a chain breaker, a Scout Tool with a quick link, and dynaplug that can fix pretty much any blowout. For road, it's simple. A tube, a lever, and some air. I don't use saddle bags on either bike; everything fits just fine in my jersey, and it's a lot easier when you switch between bikes all the time.