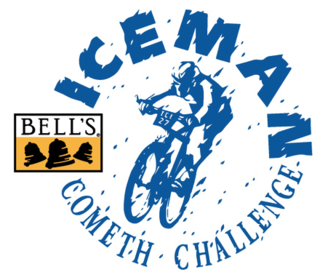 In our neck of the woods, the holiday season actually starts just after Labor Day. That's when mountain bikers start sweating their tire choices, bike weight, and gear selection even more than usual. It's all because a clock starts ticking; the Iceman Cometh Challenge is two months away.
Now nearly 30 years old, the Iceman Cometh began in 1990 as a 26 mile point-to-point race from Kalkaska to Traverse City. A few dozen riders made the haphazard pilgrimage from east to west through the Pere Marquette Forest. The course itself is largely the same, made up of a mix of fire roads, singletrack, and two-tracks that intersect, weave, and curl through dense pine, oak, and maple. With around 1,700 feet of elevation gained and relatively straightforward terrain, it's most often the weather that makes the biggest impact.
That was on display a year later, when a blizzard rolled in just as the racers hit the midway point. With a cold northerly breeze sweeping through the trees all day, riders were slowed to a near crawl for the final few miles, and over six inches of snow were on the ground by the time everyone had finished. Those are the stories that make the race so unforgettable, creating stories that are told every year, and weaving together excitement, nerves, and a feeling of dread, too, should it be another year of rain, mud, or snow.
From 35 racers in 1990 to nearly 5,000 in 2018, the Iceman Cometh draws world champions, national champions, and first-timers to brave whatever weather is on offer each year. The event has grown to include the SRAM Ice-cycle Expo on the Friday before the race, open to vendors from all over the country to bring riders up close and personal to the latest tech, gear, clothes, and even the pro racers themselves.
We're excited to be locked in for the Expo this year, and it's a great opportunity to show racers our systems in person. For many of our followers, it'll be the first time they'll be able to see all of our mounts and products, see how they all work, and even pick up one of a few hand-picked kits and packages we've put together just for the Expo. Think of it as a curated playlist of our greatest hits, included some of our best selling Starter Kits and tools. We'll also have a few soft goods available so you can show everyone who comes to your podium ceremony just how well you take care of your stuff.
As is always the case, this year's Iceman Cometh Challenge is sold out; many riders return year after year, capping off their season with the biggest one-day mountain bike race in North America, and almost always starting preparations for their next season with just a bit of northern Michigan mud still on their tires. We hope to see you at the Ice-cycle Expo Friday, November 2, and if you need a place to huddle for warmth after your finish Saturday, look for the up.bike Adventure Hub at Timber Ridge, not too far from the finish line.