Are we ready to bike race? There is certainly a desire to get back to any kind of normality, but there is also the reality of doing so safely. See what other racers think with our Back To Racing Survey results.
The situation is different for every city, county, state, and region of the country, but one thing remains clear. Nothing is going back to normal soon, and most racers have a cautious eye on the many elements of bike races that make them so much fun. The very structure of events, bringing people together, often from distant places, is as out of step with the current situation as hopping on an airplane or going to a concert.
Time hasn't helped, either. In the weeks since we launched this survey alone, coronavirus cases haven't just gone up. In 41 states, case counts have increased, while Florida, Arizona, Texas, and others have faced overwhelmed intensive care units and COVID-19 units over capacity. It was uninformed and possibly naive to think that, back in March, we'd simply pick things up a month or two into spring. Events in August, September, and October have already confirmed plans to go virtual or complete cancellation.
Here, we'll focus on just a few of our ten questions, and you can see the full results here.
We've Missed A Lot
According to our respondents, we're missing plenty of races. Over half of respondents say they've missed five or few races, with a further 27% missing between six and ten events. By the end of the season.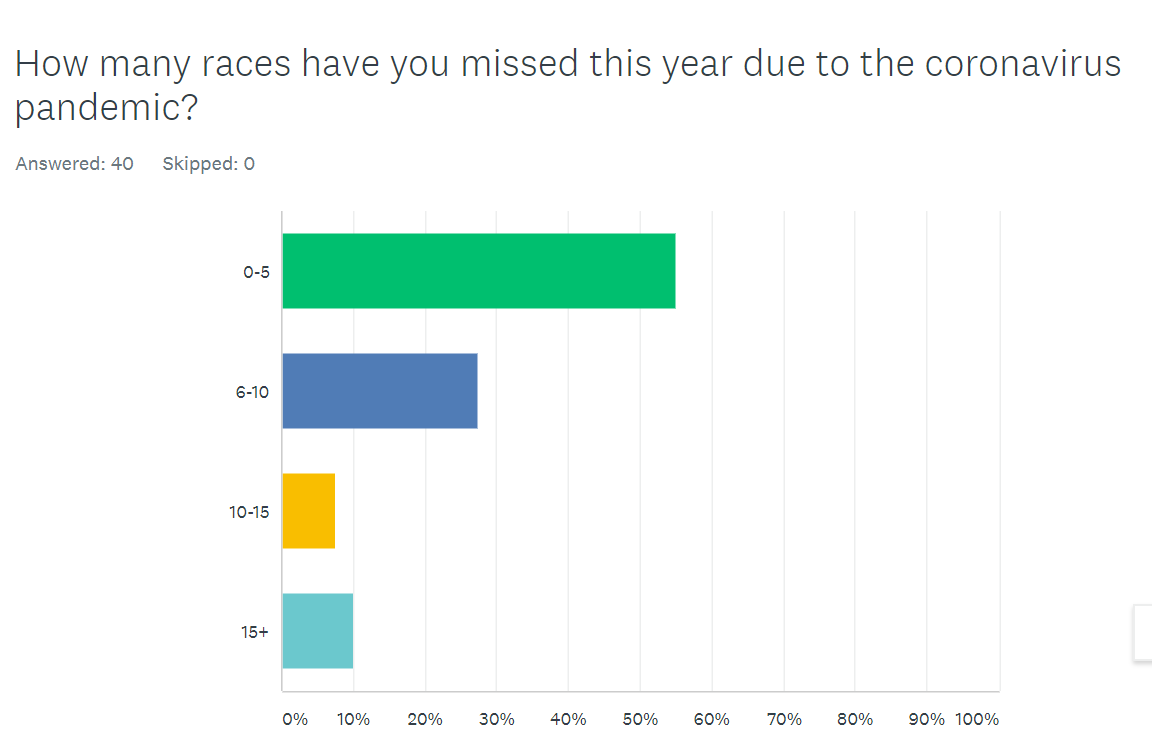 We Want To Plan Ahead
One of the toughest decisions for race organizers right now is deciding when to throw in the towel. Many are working hard with local health departments or their state officials to come up with ways to keep racers safe and determine under what conditions they'll be allowed to put on races. Most racers say they'd like to know between three weeks and a month (55%), while 30% need to know between one and two months.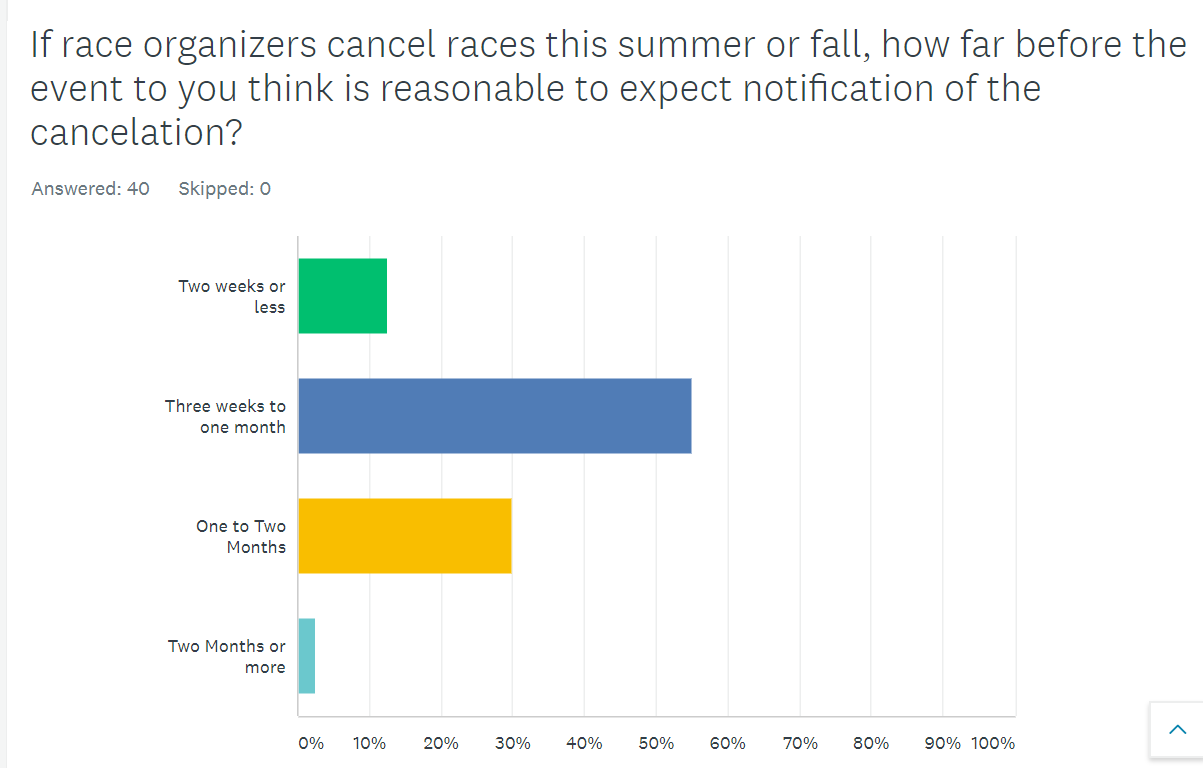 What Will Make Us Decide
Even if a race gets permission to go ahead, that doesn't mean racers will attend. According to the study, most will be looking at the current stage of coronavirus cases to decide whether or not to race. Behind that 67% bloc, a full 42% say the specific procedures put in place by the event to reduce the risk of disease spread would encourage or discourage their attendance. The size of the event, however, didn't seem to be the deciding factor. Many preferred events with 100 people or less, though most wouldn't base their attendance on size alone.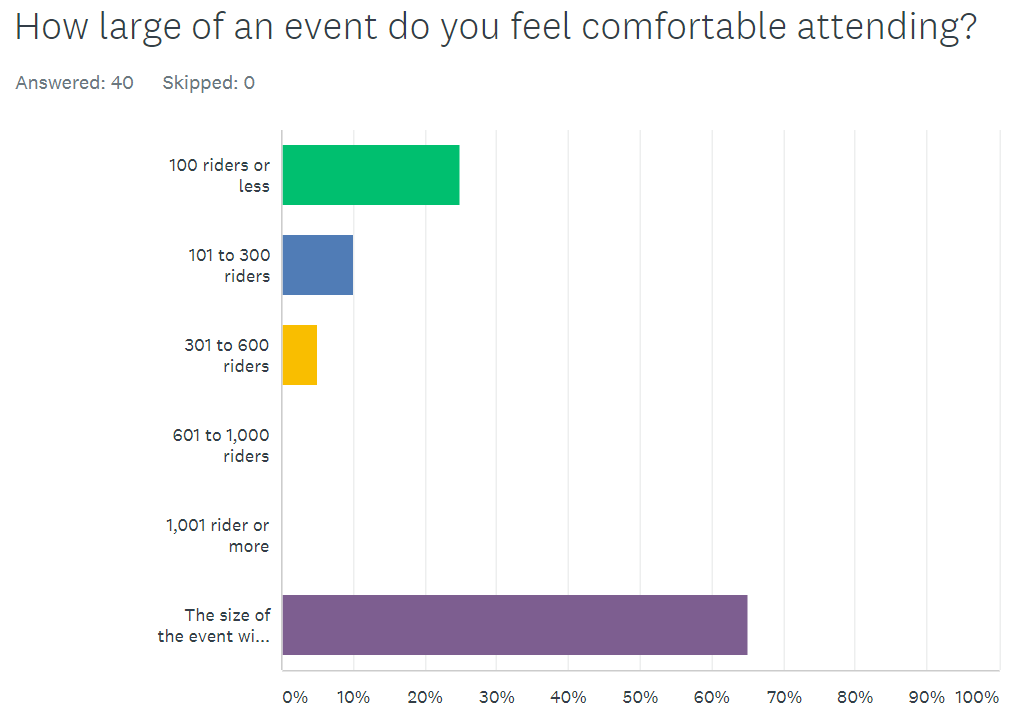 Virtually Motivated
Virtual races have taken on a new prominence, but it doesn't mean that will keep racers entertained forever. 57% of respondents say they took part in a virtual event this year. Many events, including many that are fundraisers, have used this option to bring in donations over the past few months.
One of the comments we've received repeatedly on this survey focuses on letting the 'healthy' race, and we think it's worth discussing. The problem with simply putting on events, even with certain health procedures in place, is that it ignores one of the biggest challenges in the pandemic. With approximately 80% of positive cases asymptomatic, the only real way to confirm who is actually healthy would be to require testing within a certain window of time preceding the event. That could put a huge strain on testing supplies and create even more backlogs in labs already overwhelmed by swabs from all over the country. That seems a bit unnecessary for a hobby.
Additionally, it would also require spot testing of a certain percentage of participants to identify any cases and being contact tracing. The challenges of contact tracing aside, this would put another strain on testing sites and labs should a positive case be identified. It would also require all of those races to self-isolate and monitor for symptoms for up to two weeks, depending on where the event took place.
Are we ready? Give us your thoughts in the comments.