We've seen ski wax benches bolted onto doors, ironing boards, and jerry-rigged onto odd bits of wood paneling. Invest in your ski wax station and spend less time on the iron and more time in the tracks.
Cross-country skiing is all about waxing. As Nordic skiers get more serious about their skis, they inevitably get more serious about their ski waxing bench. Still, even if you find a way to build something on your own, it isn't likely to meet your needs or hold up for a more than a season or two of heavy use.
How Often Should You Wax Your Skis?
The real reason to invest in a great bench is just how often you'll use it. Depending on how often you ski, how variable your winter weather might be, and your personal preference, you could wax several times per week. As you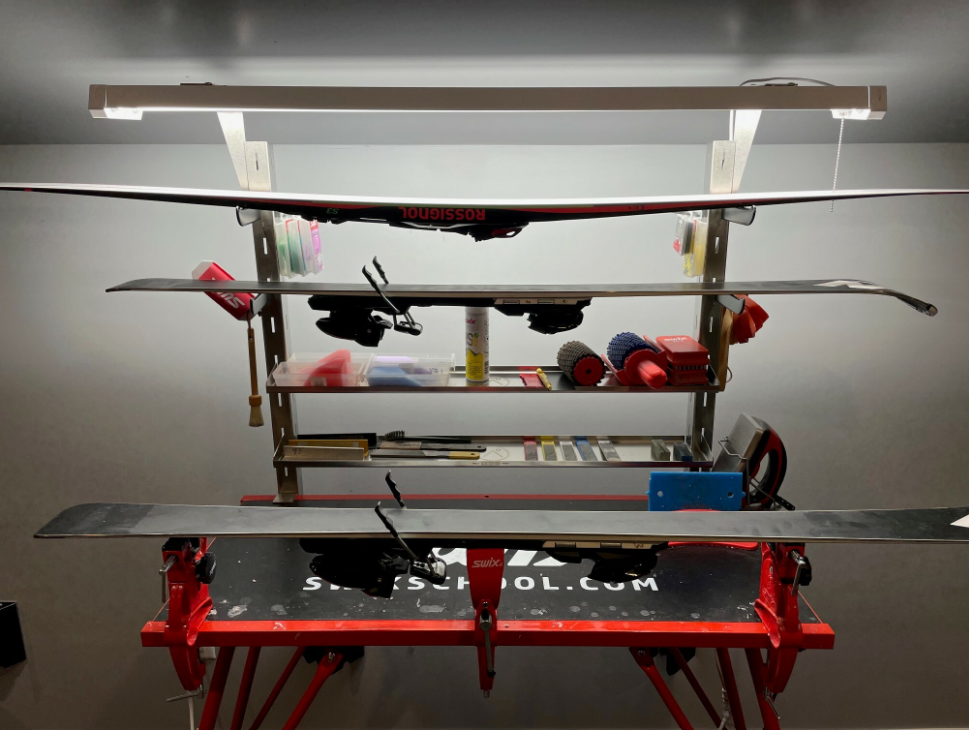 learn how to wax your skis, you may be more likely to give it a fresh application before specific days.
Waxing Nordic Skis
Most skate skiers wax every three to five days. That may be more frequent based on changes in temperature and snow conditions. Classic skiers often wax before every outing or at least touch up their kick wax based on that day's temperatures and tracks.
While you may not need to wax your skis every time you head out the door, waxing consistently is a great way to get more time efficient when you scrap and wax, plus helps you learn more about which wax to use in different conditions. You may find you have a preference of a certain wax over another even when the recommended conditions aren't exactly what it says on the brick.
Waxing Alpine Skis
You may wax your downhill skis less often, but make sure you give them scrap and fresh wax at least a couple times a season, even if you aren't skiing frequently. Even inexperienced skiers will notice when their wax isn't right for the conditions or simply need a fresh application.
The Ultimate Ski Waxing Bench
This is how skiers get more done. The best ski waxing benches allow you to organize your wax, and sharpening tools, offer a stable platform for waxing, and offer a sturdy perch for the ski that drying or patiently waiting its turn. Our Ski Wax Station Deluxe also offers an overhead LED light to give you excellent optics.
Having the right bench, the right wax, and the ability to fold up the bench when not in use makes ski waxing more accessible, more efficient, and a better experience to get you fired up for a day on the trails.
Need help finding the right ski waxing bench, supplies, or ski storage? We've got your back. Contact us today for a custom package suited to meet your exact needs!