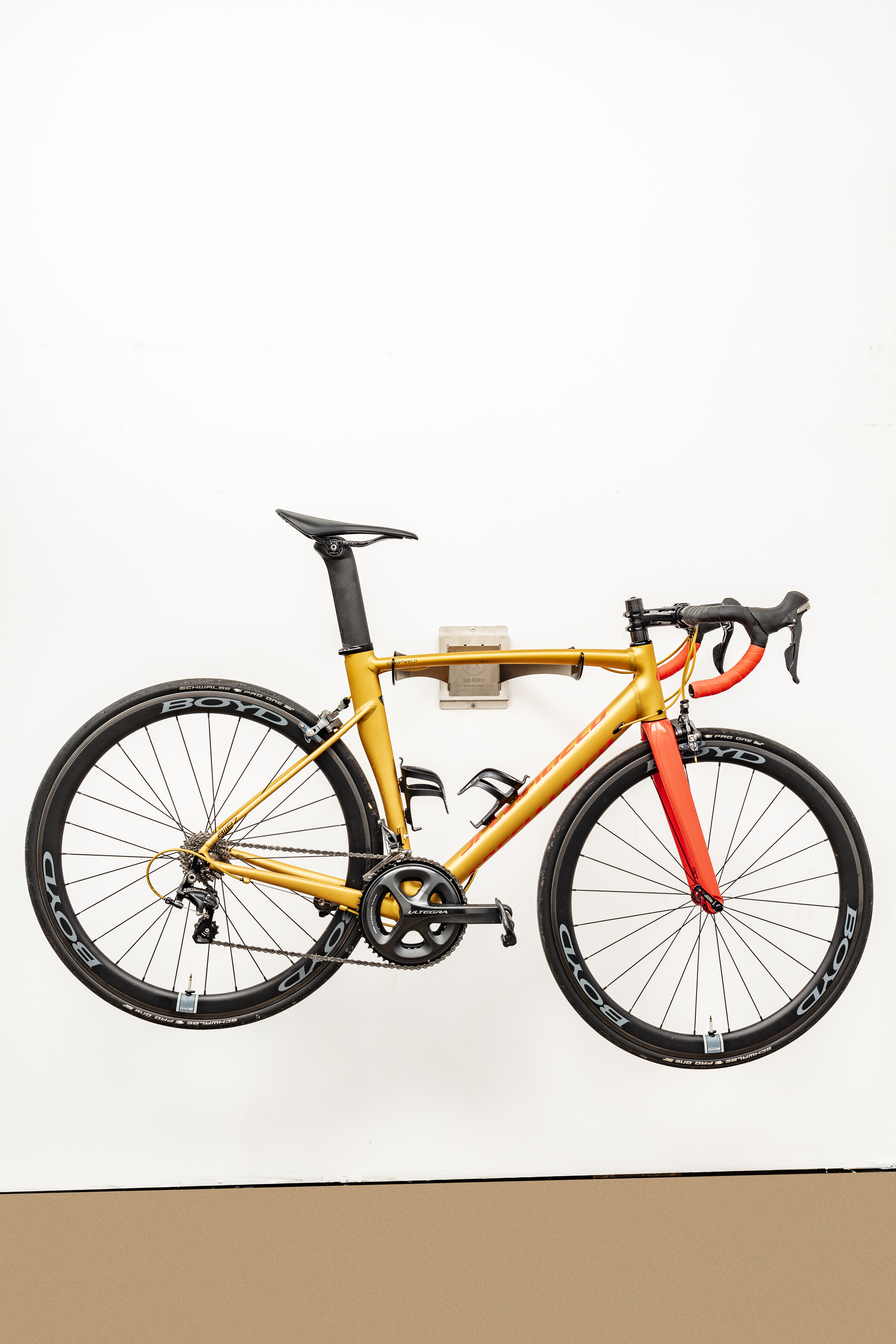 From storage to repairs, the Workstation gets it done.
When we first started designing mounts and storage options, at the very top of the list was a way to work on bikes with a minimal footprint. Nothing comes close to a full scale, top of the line bike repair stand, but they take up a lot of floor space. Toss a bike on it and they take up quite a bit of the garage. And let's be honest; who is actually putting them away after a repair?
So, we got to work.
The result turned into something really, really useful. The Workstation is a sturdy, stable spot to service your bike. From a quick chain clean and lube to all-out drivetrain replacements, we've done it all on the Workstation. Wide enough to keep your frame steady but narrow enough to fit even extra small frame sizes, it's a handy way to work on your rig, without taking up a quarter of the garage in the process. What we learned pretty quickly was that it also serves as the ideal storage spot for your go-to bike. We've got nearly a dozen bikes in the garage, but the one we ride the most gets prime placing on the Workstation. That makes it easy to get to, easy to wipe down, and easy to load up with bottles and flat kits before heading out the door.
And that was just the start. With the Workstation quickly becoming the hub of the garage, we find ourselves adding more and more accessories so that the stuff we needed was always within reach. Eventually, most of our mounts were just on the same wall as the Workstation, they were on the same strip of Wall Rail. It took a friend of ours to point out the obvious: "Dude, why don't you just sell that as a kit?"
Well, now we do. The Workstation is the nerve center of the Vertical Cycling Center, one of our most popular packages. Keep your shoes, shades, and lid organized (The Kit Keeper), get pumped for every ride (Tire Pump Hanger), plus the vertical Wall Rail you need to keep it all straight.
Sometimes the best ideas are the ones you didn't realize you had and that's certainly the case for the slow but successful evolution of the Workstation. Start with one piece and add what you need, or take our favorites and get your garage organized for summer.
Questions? You can always reach out to us for spacing, installation, and compatibility information.