Racing on Zwift is a blast, but if you're not used to it, it can be extremely frustrating to watch the bunch ride away from you early in the race. Take it from us, it's just as frustrating virtually as it is in real life! From the simple stuff like finding a Zwift race to join or a Zwift Racing League to add to your weekly calendar, we've got a few tips for racing on Zwift.
Our Zwift Disclaimer
Before you get into this, remember. Suspend your disbelief. Guys who you are much faster than outside might be you inside. People may throw down "incredible" times and, that's fair, they might be so fast or strong that it isn't credible. Take it for what it is: free racing when the alternative is sitting and watching Paris-Roubaix for the 47th time on GCN Racing.
How to Start Racing on Zwift
Connect to Zwift Power
So you've got a Zwift account and you've probably got a Strava account. Good. Now, you'll want to also create an account at Zwiftpower.com and connect it to both your Strava and Zwift accounts. ZwiftPower is the ultimate in Zwift nerdy, compiling all kinds of virtual racing results and massive amount of data to go along with it, too.
Here's a handy how-to from Zwift.
Get a Heart Rate Monitor
Due to virtual doping, most official ZwiftPower results require a heart rate monitor to score. While you'll still show up on the results on Zwift without one, more Zwift nerds count on the ZwiftPower standings as more "official" results for this step. ZwiftPower uses algorithms and heart rate data to determine if a rider's performance is credible.
Depending on your device, you may need a BLE+ or ANT+ heart rate monitor to connect to Zwift.
Find a Zwift Race
The website has a full calendar of approved Zwift races, training rides, and just group rides to choose from. The Companion App might be even easier when it comes to scrolling and finding events to join, so plus it can come in handy during races, too. Choose a race time that fits your schedule.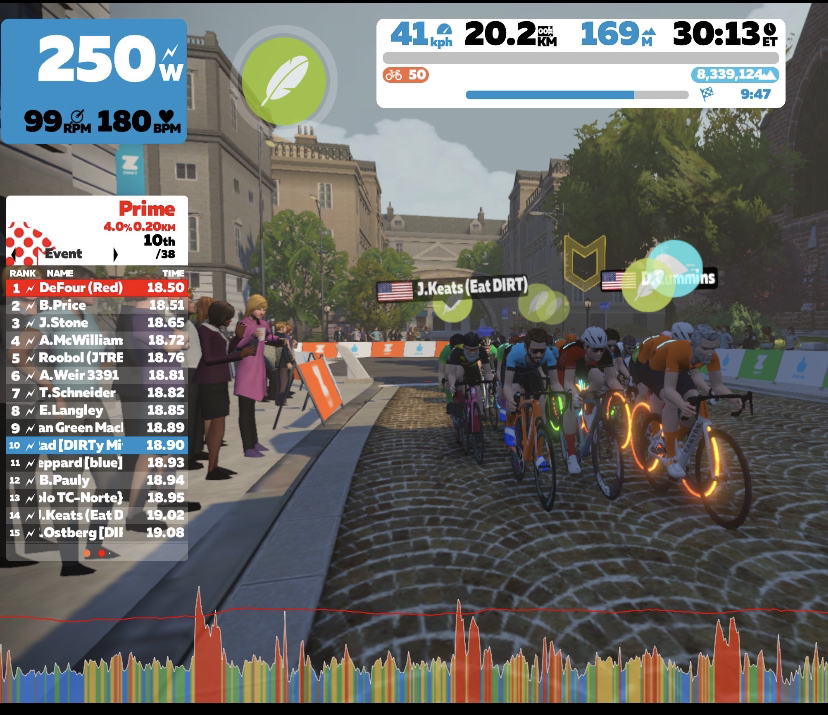 What Are The Zwift Race Categories?
Zwift divides competitive races into four categories. The categories are divided based on the expect watts per kilogram of riders who will be in that category. If you don't know what your w/kg are, consider trying a Functional Threshold Power (FTP) test. You can take an FTP test on Zwift by selecting the Training tab before starting a ride.
Note: An FTP test is hard, so take it easy the day or two before you try it. It will take either 40 minutes or an hour based on the kind of FTP test you take.
In addition to the w/kg, we've also suggested where to start based on common MTB race categories. The Zwift race categories are:
A – 4.0 w/kg or higher (Pro Elite)
B – 3.2-3.9 w/kg (Expert)
C – 2.5 to 3.2 w/kg (Sport)
D – 2.5 w/kg or under (Beginner)
Joining the Zwift Race
One you've signed up for a race of event, you'll start your ride like normal. In the lower left-hand corner of your screen, you'll get a countdown to the start of the race, as well as an option to join the event. While you don't need to join right away, we recommend joining no later than 3 minutes before go-time to avoid any trouble with your hardware making the switch.
Zwift Racing Tips
1.Be Ready. Zwift races are notoriously hard right from the gun, so give yourself plenty of time beforehand to warm up. It's not uncommon to start going near threshold before the race starts so you're putting out the right effort to hold on.
2.Use the draft. Just like outside, drafting is a huge benefit in Zwift racing. Conserve as much energy as you can until you make your move or need to hold on to someone making an attack.
3.Know the route. Before your race, take a note how far into the race sprint points and hills are. This will help you get in the right position to avoid being dropped and may even help you know if attacking on one climb is a better option than waiting for another climb or a better opportunity.
4.Know when to use Power-Ups. Not all races allow Power-Ups, but for the races that do, make the most of each one. In some races and on some particular maps, using the right Power Up at the right time could make the difference between going for the win and going out the back.
Stay Organized with up.bike
The biggest advantage of Zwift racing and indoor cycling as a whole is the convenience. Being able to hop on a bike, race, and be back to work or family in a few minutes is one of the best parts of building indoor cycling into your training during winter or year-round. Keep your indoor cycling gear and your entire bike life well organized with cycling storage options from up.bike.
Need help designing the perfect cycling storage solution for your garage or pain cave? We can help! Get in touch for a custom package based on your needs.