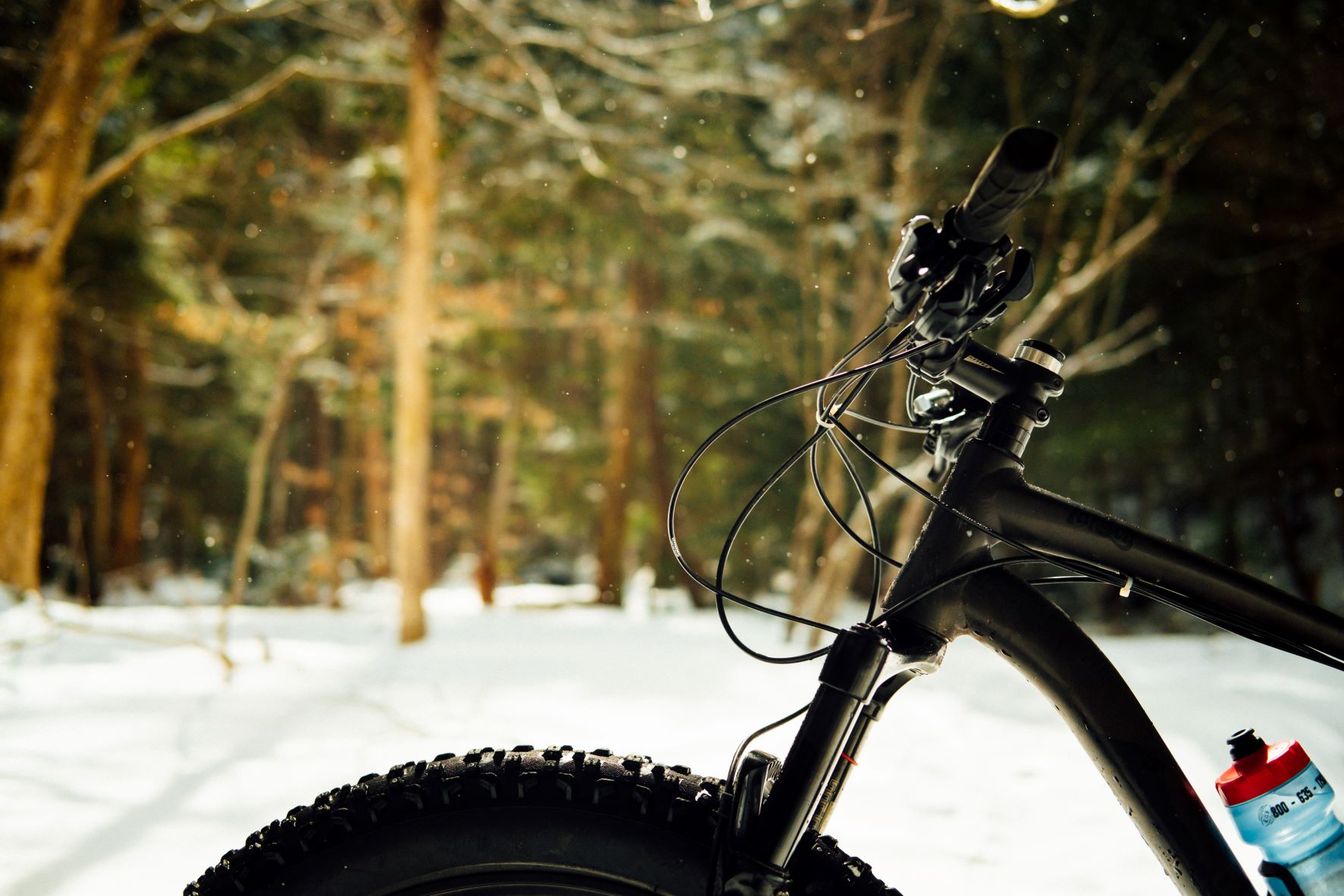 Fat bikes aren't snow bikes. Many riders choose to ride wide year-round to make the most of the versatility four or five inch tires provide. With more stability, traction, and floatation, fat bikes are the ultimate exploration machines, too, and it's that tire width that makes them so fun.
Of course, those wide tires are also what makes it so hard to store a fat bike. Even normal mountain bike storage hooks don't quite deliver the stable, reliable hanging storage we want to see. Additionally, the heft of a fat bike can also make wall mounted fat bike storage a less than ideal option for those who don't have upper-body strength. As cyclists, that's a lot of us.
We've broken down the our fat bike storage solutions into three categories:
-Floor fat bike storage
-Wheel on fat bike storage
-Wheel off fat bike storage
Floor Fat Bike Storage
This is a great option for those looking to wheel in, put their bike on a stand, and get on with their day in a hurry. It also makes it much easier to grab the bike quickly for kids, the vertically challenged, and those will what we'll call a 'climber's build'.
The drawback, of course, is that the bike will take up a bit of real estate and that is a particular problem if you need to park your car in the garage. While it can be less of an issue all summer, plenty of fat bikers live in places with plenty of snow, and they don't want to wipe their car off every morning if they can help it.
If it is the right fit for you, you can order our Display Stand, which works for fat bikes and any bike you need to store and keep safe.
Fat Bike Wall Mounts
Fat Bike Storage Hook
Getting your fat bike up off the floor completely is the best way to make room in the garage and to make sure it isn't knocked over or, heaven forbid, ran over. (Hey, we hear about it all the time)
We designed a dedicated fat bike storage hook to add more security by making our Wheelie mountain bike storage hook even wider. The Fat Wheelie easily hold a fat bike by the front or rear wheel. The modular Wall Rail system also makes it easy to make room for more bikes in your storage area or prioritize placement based on what bike you are riding the most.
Wheel Off Fat Bike Storage
For an even more secure option, pop the wheel off. Using the fork to hold your bike is perfect for tight garages or for storing your bike in a cycling trailer. We recommend the Fattie Forkmount for riders who want to leave nothing to change in the garage or on the go. This wall fat bike storage option works with those now rare quick release forks (looking at you, guy on an original Surly Pugsley) or the now universal thru axle. You will want to use your current thru axle for the mount or pick up an extra one to leave in the Forkmount.
Cycling Storage Solutions
Storing your fat bike doesn't have to be a pain. We're here to help craft the right fat bike storage solution for your space and for your needs. Make your fat bike rack a part of a complete, stylish, stainless steel storage system with up.bike, and let us know if we can answer questions or put together a custom package for you!