We're proud to support Michigan athlete and all-around great guy Alexey Vermeulen. Earlier this month, Alexey toed the start line at the Belgian Waffle Ride, a grueling gravel race in Cedar City, Utah. He passed along a great recap of the event, plus some sharp photos courtesy of ENVE.
With so much unknown surrounding the world, let alone the cycling community, it was hard to know what to expect going into Belgian Waffle Ride. Life without racing has been hard, but what I have truly missed is the people at those races. Gravel racing is a buzz of nervous energy; people from all different backgrounds with varying goals prepared to take on the unknown together. In a weird way it is poetically similar to the current situation…and a lesson in patience and humility, knowing that on course, as in life, there will be a moment where you are forced to look outward for support in order to move forward.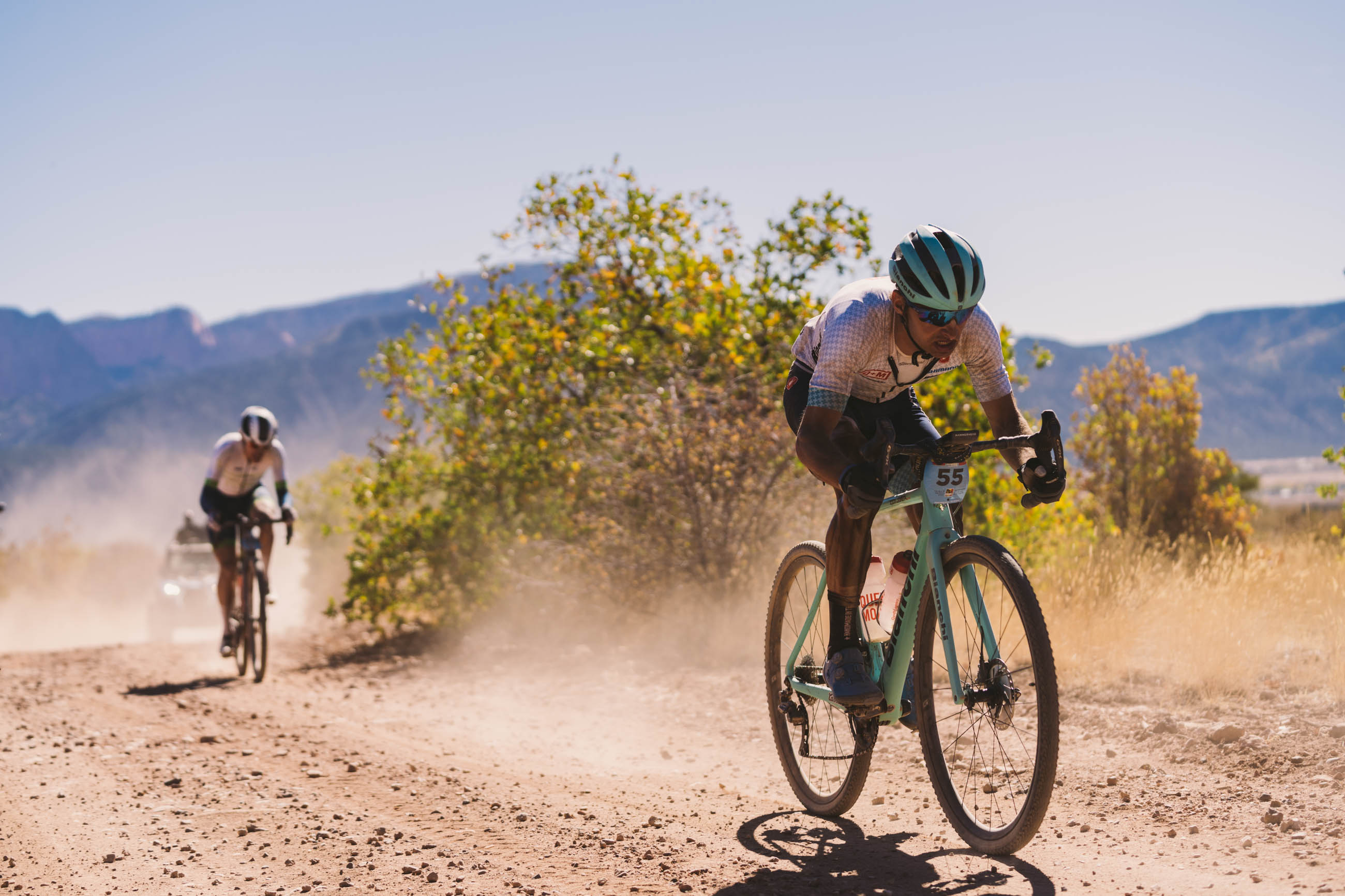 If this pandemic has taught us anything, it's that you need to love what you do. Cycling has seen more growth in the last 6 months than the previous 3 years and I credit much of that to the gravel/dirt scene. It allows people to dream, people to grow and most importantly, allows people to test themselves. BWR Cedar City was set to be one of the hardest races on the gravel calendar. With 75% of the course being dirt and much of that being double or single track…whether you finished in 6 hours or finished in 10, finishing was an accomplishment.
My girlfriend, Sophie, and I arrived in Cedar City a few days early so I would have time to recon some of the course. I went out and previewed the start as well as the final 15 miles while doing some of sections at 80% of my threshold to get a gauge for what it would look like at race speed. The finish recon proved educational. I decided to move from an 11-30 cassette to an 11-34; the final climb was not only steep, but much sandier than I expected, and after 100 miles, it was going to be important to be able to keep wheel slippage to a minimum. Once home, I did a final bike check…, bottle cages, headset, saddle, pretty much anything that could be jostled loose during a bumpy race, I tighten. I ran Vittoria Terreno Dry 38mm tires with 3oz of Stan's Race Sealant inside. After conferring with Enve and their air pressure chart I started with 30PSI in the front and 31PSI in the back. Once both bikes were ready, all there was to do was eat and sleep.
Pre-race dinner for me includes as much white rice, salt and eggs as I can put in my belly – Sophie references it to the scene in The Office when Michael is shoveling Alfredo into his mouth before his 5k race – I'm just eating a little healthier. After a final recovery session (stretching, rolling and Normatecs) it was off to sleep, race day would be here before I knew it.
Saturday started off with a 6am wakeup call and more rice. The sun was still sleeping as we rolled over to the start. The air was cold, and at this point I was happy to have my mask on because it was still keeping my face warm! With temperatures starting at 42 and ranging up to the mid 70's during the race, I had chosen to go with a mid-weight base layer, arm warmers, Castelli San Remo suit and Embrocation to keep the legs warm until the sun came up. After a chaotic start, the race sorted itself out quickly. I had a small mishap going into the first KOM but managed to reconnect with the front split over the top. I had spent 20 minutes around 350 watts normalized to get back and knew I had burnt some matches. As the race entered the 2nd hour, the group had dwindled to just 7. The group included Keegan Swenson, Pete Stetina, Ryan Standish, Eric Brunner, Griffin Easter, Dylan Johnson, and me. The pace was still high once the selection had been made, and I was focusing on getting in the calories that I needed. I used a mix of Split, Honey Stinger Chews and CarboRocket 333 in my bottles. (Small shoutout here to the legend that is Myron for the hand-ups during the race and after) Leading into the 3rd hour, our group worked much like a team. I think many people would imagine us "racing' and trying to bludgeon each other all the way to the line, but in some sense we all had the same goal, and it was mutually beneficial to work towards the finale. This meant not only sharing the workload, but also sharing lube (because some of us forgot it - me) and even taking a small hiatus to stop for a nature break. Of course, on many of the gravel sections the pace would go up as someone got excited, but it was cool to see how fast we raced and most of it was because we did it together!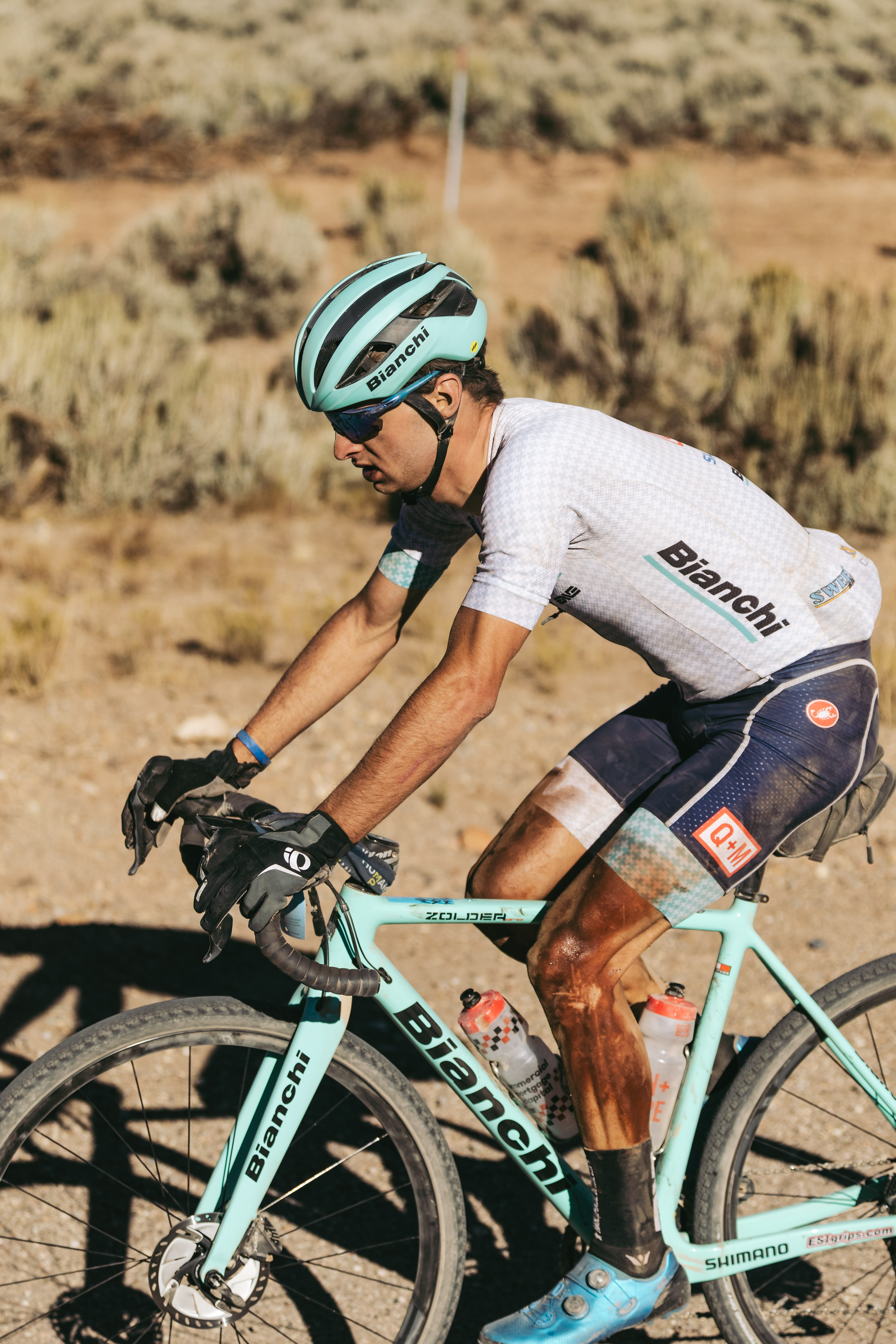 Coming off the final gravel section before the climb we were down to 6 riders. All we had left until the final showdown was 8 miles of false flat uphill with a headwind. Cohesion was still there as we pedaled toward the final climb, but slowly people take shorter pulls and take more time "eating" to skip pulls the closer you get to that 'common goal'. Turning onto the climb the group quickly splintered leaving me, Keegan and Pete to duke it out. I used all the gears I had and still struggled with some tire spin as we entered the final ½ mile of the climb. It was super important to not only pedal smoothly, but also pay attention to where you aimed your bike as some of the sandy sections were over 4 inches deep. We went over the top with daylight between each of us: Pete in first with about 15 seconds to Keegan and then another 10 from Keegan to me. The downhill was sketchy and lined with "Slow the funk down" signs as a warning to anyone who would push the limits, but my real struggle came as I left the climb behind and rode the false flat toward the final test; a 4.5 mi single track section. By this point I was cramping in my arms and doing what I could to move forward. This section would have been much more fun on a mountain bike with suspension, or 100 miles earlier, but alas here I was. As I left the single track there were 5 miles to go. I rode a steady pace knowing I was likely never to see the other two again. I rolled across the line alone, Keegan had taken the sprint from Pete in the final meters. Now it was time for a sit down, drink, food, shower - in that order.
BWR is great not only because of the race and courses, but because of the people. From pros to amateurs, every single person at the race was positive and helpful, the stories you hear after the race remind you why we all miss racing in the first place. People finished with a smile on their face before quickly dawning their masks as if it was a post-race ritual - A sense and sign of respect not only toward others, but the effort put in to have this event in a year without many. Thank you to BWR, I cannot wait to be back in 2021.
Feel free to check out my race setup here thanks to ENVE (Ian Matteson, Mike Swim, Neil Shirley): https://www.youtube.com/watch?v=1j8VUSdewE0
A more detailed write up on my bike by Cyclingnews (Colin Levitch): https://www.cyclingnews.com/features/alexey-vermeulens-bianchi-zolder-pro-gallery/

A more timely race report by Velonews (Ben Delaney): https://www.velonews.com/news/gravel/keegan-swenson-wins-belgian-waffle-ride-without-a-front-brake-rose-grant-takes-womens-race/