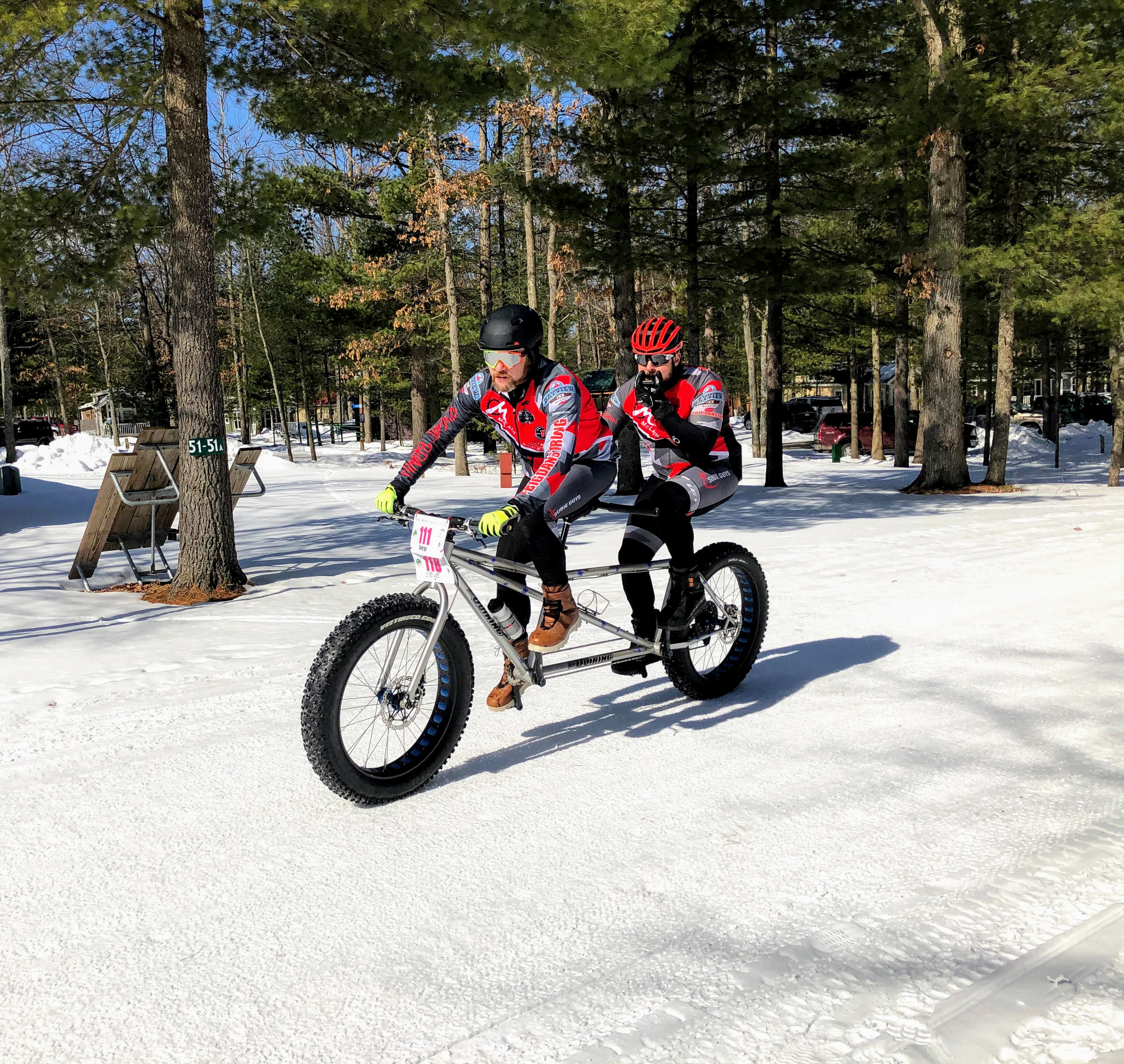 All fat bike races should be like the Huma Loopa Licious Fat Bike Race. The weather, the course, and snow all conspired to send off the 2020 Short's Brewing Fat Bike Series in style.
We've done plenty of these winter racers over the years and we've seen it all. From so cold riders dropped out after a single lap to so hot that riders looked to be riding through a life-sized pineapple slurpee, anything can happen in northern Michigan. Of all those races, few have enjoyed as perfect conditions as this past Saturday. After four previous stops dating back all the way to mid-January, it was a pretty perfect way to put a punctuation mark on winter.
Fat bike racing, on the surface, seems like the least accessible cycling discipline. It's cold, you need a different bike, and the conditions are, as we've noted, extremely variable. But what we've found as sponsors of the Series this year is that, in spite of those challenges, it's one of the most accessible. Really, it might be because of those shared hardships that fat bikers have such a sense of camaraderie. From the fastest to the slowest, oldest to youngest, the racers are all facing the same cold, albeit it as vastly different speeds.
At least at the SBFBS, the lap-race format also really contributes to the atmosphere of the events, and something that we really enjoyed. With racers coming by every few minutes, it's a lot like cyclocross in that spectators have a ton to, you know, spectate. On Saturday, we were able to watch riders fighting for podiums in a half-dozen categories all race long. We could cheer, heckle, take photos, hand up beer, and even help a few riders with mechanicals that needed a little air or a quick derailleur adjust after a crash.
After some cold events, Saturday's cap on the seasons wraps up winter for a lot of us in the region. While there may be a few more flurries and flakes, we've seen the best of winter for the year, and the trails are already icing up or melting fast. For fat bikers, it might be the end of one season, but we're all ready for the start of the next one...and the return to dirt.
You can see all the results from the final race here.
From everybody at up.bike, congrats on another great year of the Short's Brewing Fat Bike Series!