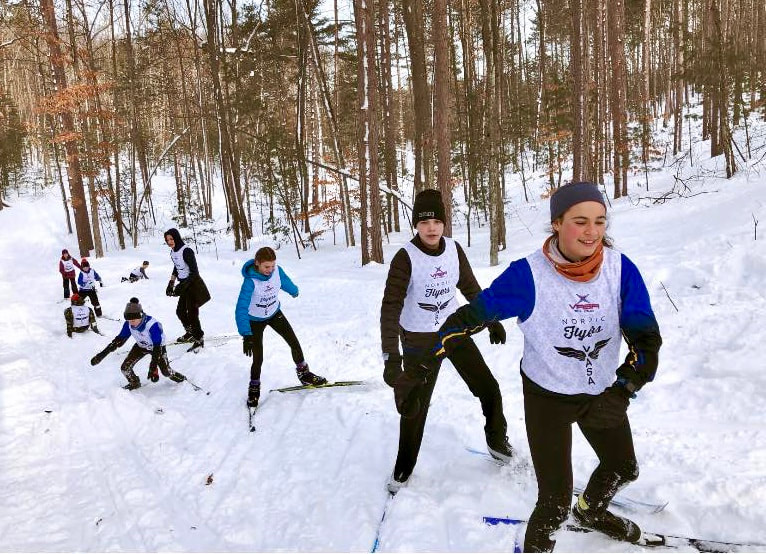 Take a look at your local ski race's most recent results and you might notice something. The age categories that don't qualify for an AARP card are pretty thin. Cross-country skiing has a hard time finding its legs in the United States, especially in younger participants. Thanks to local clubs, that's going to change.
Nordic skiing is a blast. There are few sports that offer such a challenge, the opportunity to constantly improve, and to enjoy nature at its most serene. Anyone who has spent time in the woods on two skis knows that winter sports have a sort of a false barrier; the cold, the gear, the drive to the trailhead are much easier to overcome than many realize. It's an experience we want others to have access to for their whole lives, and getting kids on skis at a young age is the best way to encourage participation and offer them a sport that they can treasure for life.
The Vasa Ski Club is kicking off its Nordic Flyers program here in Traverse City, Michigan. Designed for students in 6-8th grade, it offers young skiers a place to learn, to practice, and to improve alongside experienced local skiers and all their pals. Nearly 100 kids participated in 2019, and the program is expected to expand this winter. Centered around two practices per week, skiers rotate between skate and classic techniques, clinics, and longer outings to practice their skills.
One of the most rewarding aspects of Nordic Flyers is seeing the rapid progress of skiers. Some take on the first practice without ever putting on skis before. Most have only skied a few times, and the disparity between these brand-new skiers and kids who have grown up skiing is rather striking. But in just a few weeks, the practice and instruction makes the gap disappear. Skiers go from hobbling around to smiling, laughing, and chasing their friends. The best part? They don't just settle for two practices per week. As their ability and confidence increases, you'll find the kids staying late or skiing big miles on the weekends, too!
Keeping these young skiers engaged early is going to be vital in the future of winter sports. With climates facing dramatic changes and winters becoming shorter and offering less snow, it's going to be easy for the next generation to check out. Without year-round interest, winter trails and grooming may suffer, limiting access and support for winter enthusiasts of all kinds. It's not just about getting kids on skis, either. Events like the North American Vasa and Noquemenon Ski Race have added fat bike and snowshoe races to include more types of athletes onto the trails.
The lack of snow means there are uneasy years ahead for Nordic skiers, but seeing kids enjoying programs like the Nordic Flyers and the Vasa Juniors team is the first step in keeping our sport going strong for another generation.

To learn more about the Nordic Flyers, head here.