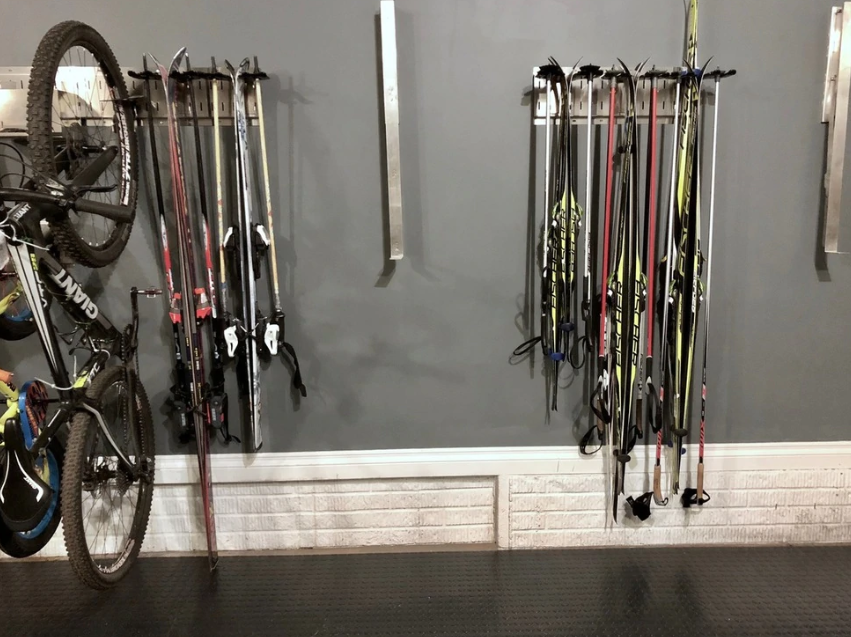 When the snow flies, it's not all fat bikes. Skiers, we hear you. And we've got a little something to make your life easier.
Skiers are, by necessity, a little particular. Few sports are so condition-dependent as both downhill and Nordic skiing, where the right wax at the right time can add up to minutes over 15km. Skiers agonize over their gear, second-guessing their equipment choices, constantly checking the weather, the air temperature, the snow temperature, the humidity, even the Strava log of other skiers for any clues on the right set-up for their day out.
We get it. That's why we created The Gondola, a ski-specific mount to get your planks and poles up and off the ground, and taking up a bit less space than if stored horizontally. Each mount can hold two pairs of skis and two pairs of poles, with three mounts taking up just 24" of Wall Rail. That's your rock skis, race skis, and Classic skis all stored in two feet of your storage space!
The mount was born out of a need to get more sport and necessity specific. Originally, we were all just using two straight-armed Seat Hangers to store skis horizontally. Even with all of our other mounts taken off the wall, it still took up a bit swatch of the garage and made us cram bikes into a bit less space than we would have liked. Couple that with the extra space taken up in winter by a gas grill, snowblower, wheelbarrow, and other odds and ends brought in for shelter, and even our beloved skis were simply taking up too much real estate.
Vertical was the answer, and The Gondola was born. It immediately proved to be more functional, too. With the old mounts, we had to shuffle through stacks of skis and poles, often pulling down more than we wanted, risking dropping carbon bits onto frozen hard concrete. The Gondola makes it much easier to grab pairs of skis and poles that you want without having to push or move things around.
Winter is still young and we've got a lot of time to make the most of this useful, well-designed mount. The added bonus? Way more room for the wax table, and that means better quality in every trip to the trail. Check out The Gondola and let us know if you have any questions!
Got a cycling or skiing storage need that you haven't found an answer to? Give us a shot and we'll see what we can come up with!