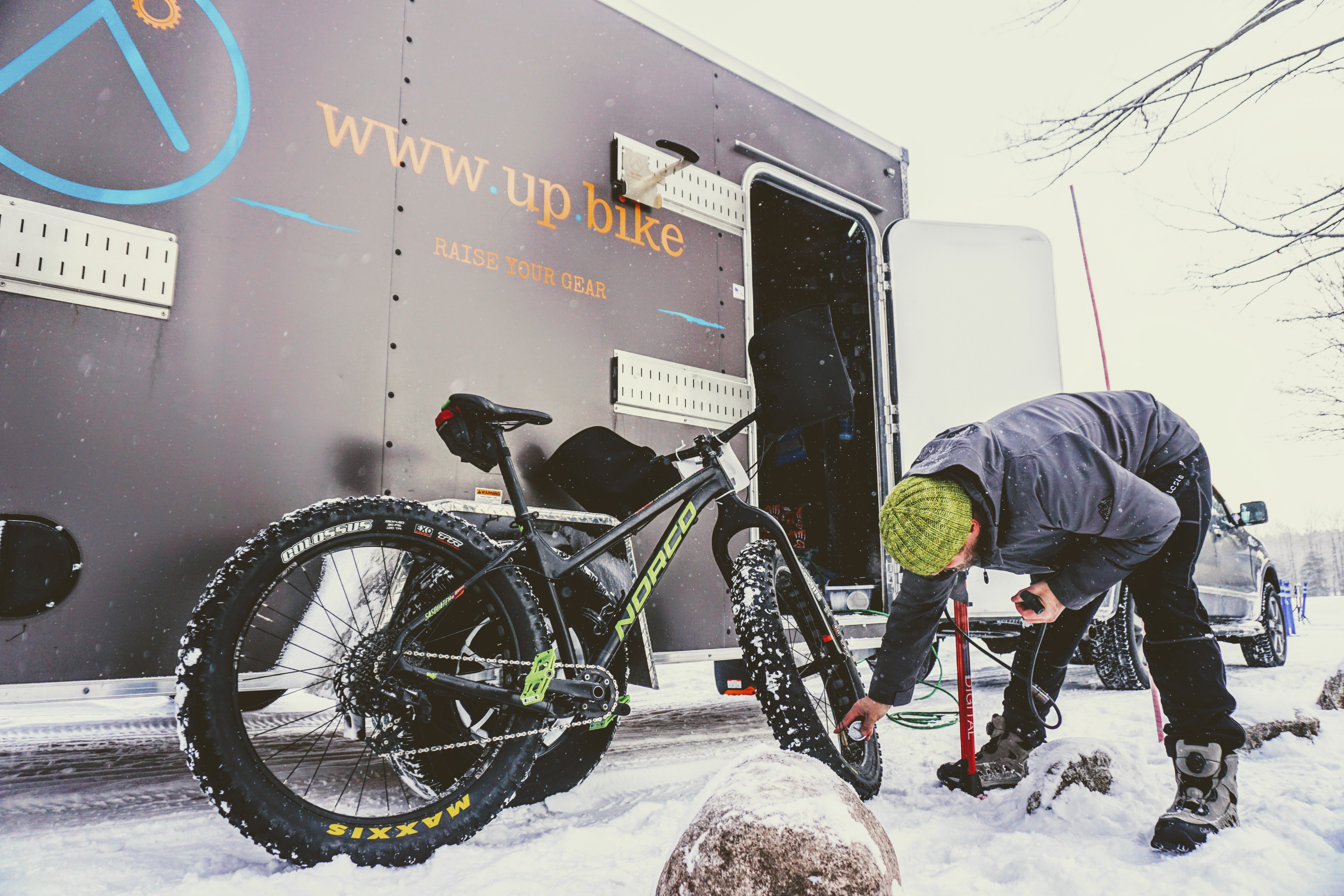 Look, putting in miles on the trainer has its place. You really can't beat the convenience and efficiency of hopping on a trainer, slamming down sixty minutes of power, and getting on with your life. No travel, no driving, and in our necks of the woods and in this time of the year, no hemming and hawing over trail conditions, temperature, or your buddy showing up late.
We get it. We do it. And we don't give people a hard time about it.
But there's something to be said about breaking that convenient habit and not just riding, but racing, someplace new. We're sponsoring the 2020 Short's Brewing Fat Bike Series this winter to urge people to do just that. Get out of your comfort zone, get tired, get cold, and have a great time going it.
The SBFBS has evolved and grown over the years, tagging in new events, new formats, and featuring new trails in the process. This year, the series extends from January into March with five races all located in northern Michigan. Things kick off on January 11 with one of those new additions to the Series, Fat and Flurrious in Boyne City. While it is new to the SBFBS, it's no spring (or winter) chicken, and previous editions have left racers smirking with fast, fun laps.
Aside from just one race, Fat And Flurrious uses the same format that's proven a winner at other Short's Brewing Fat Bikes Series events over the years. If you're new to fat bike racing, you'll probably find it to be similar to cyclocross. Each event has two distances, a Long category geared toward Elite, Expert, and experience Sport riders. The Short category is ideal for beginners and kids. All racers take on the same course and, save for the finale on March 7, also race at the same time. Long racers put in as many laps in 90 minutes as possible; hit the line at 1:29:59, and you can head out for another loop. At 1:30, the course is closed and those crossing the line are done. It's the same story for the Short category, though their clock stops at forty-five minutes.
At every race, the weather is always one of the biggest challenges. Winter in northern Michigan is notoriously unpredictable and harsh. Over the past seven years, SBFBS events have seen races with temperatures in the single digits and over fifty-degrees, too. From a two or three feet of packed, groomed trails to riding on soggy grass, and often a mix of both in the same day, racers have to be prepared for anything on any given weekend.
As tough and challenging as the races can be, the fat bike community is famously laid-back. Most races end with beers and cheers, with almost everyone sticking around to applaud the podium finishes and grab some free schwag from Shorts, Up.Bike, and all the Series sponsors. The lap format makes for spectacular spectating and (good-spirited) heckling, and riders have been known to take a bit stop for snacks, a drink, and even a beer or two throughout the race.
If you needed a reason to get outside this winter, this is it. For more information on all the events in the 2020 Short's Brewing Fat Bike Series, head to sbfbs.com and feel free to look for the #AdventureHub parked up at the races!