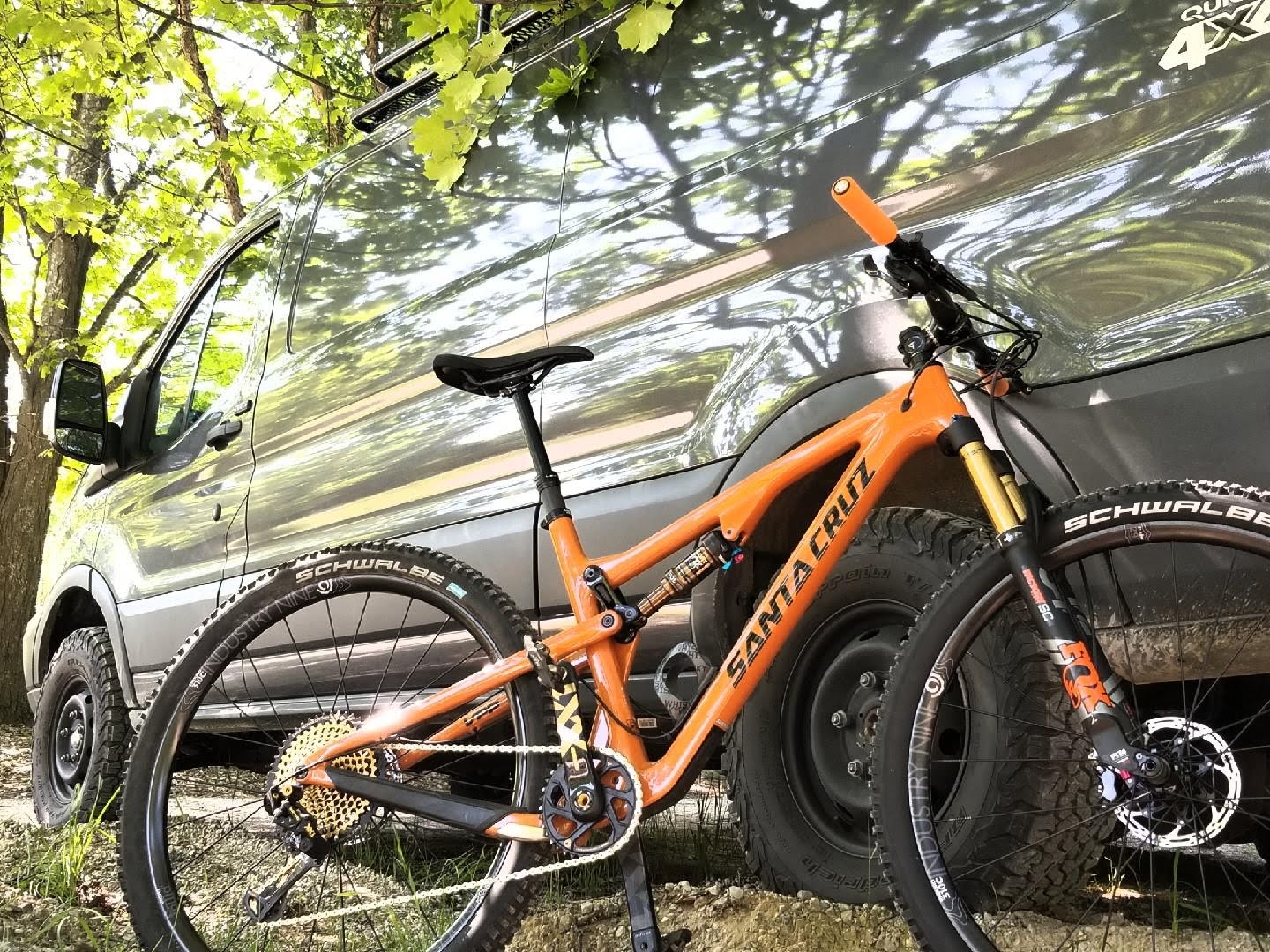 Tim Pulliam moves fast. Sit with him in a coffee shop, at a business meeting, even leaning casually on his handlebars at the group right, he is twitching. He's a man always on the move, filled in equal parts with boundless energy and unrivaled enthusiasm.
It can be contagious. Tim is the kind of guy that can talk you out of the office and onto the trails, not in spite of your looming deadline, but very often because of it. He's a living, walking, breathing injection of 'hell yeah', and the only way you have any chance of keeping up is to get to bed early and eat a very large breakfast.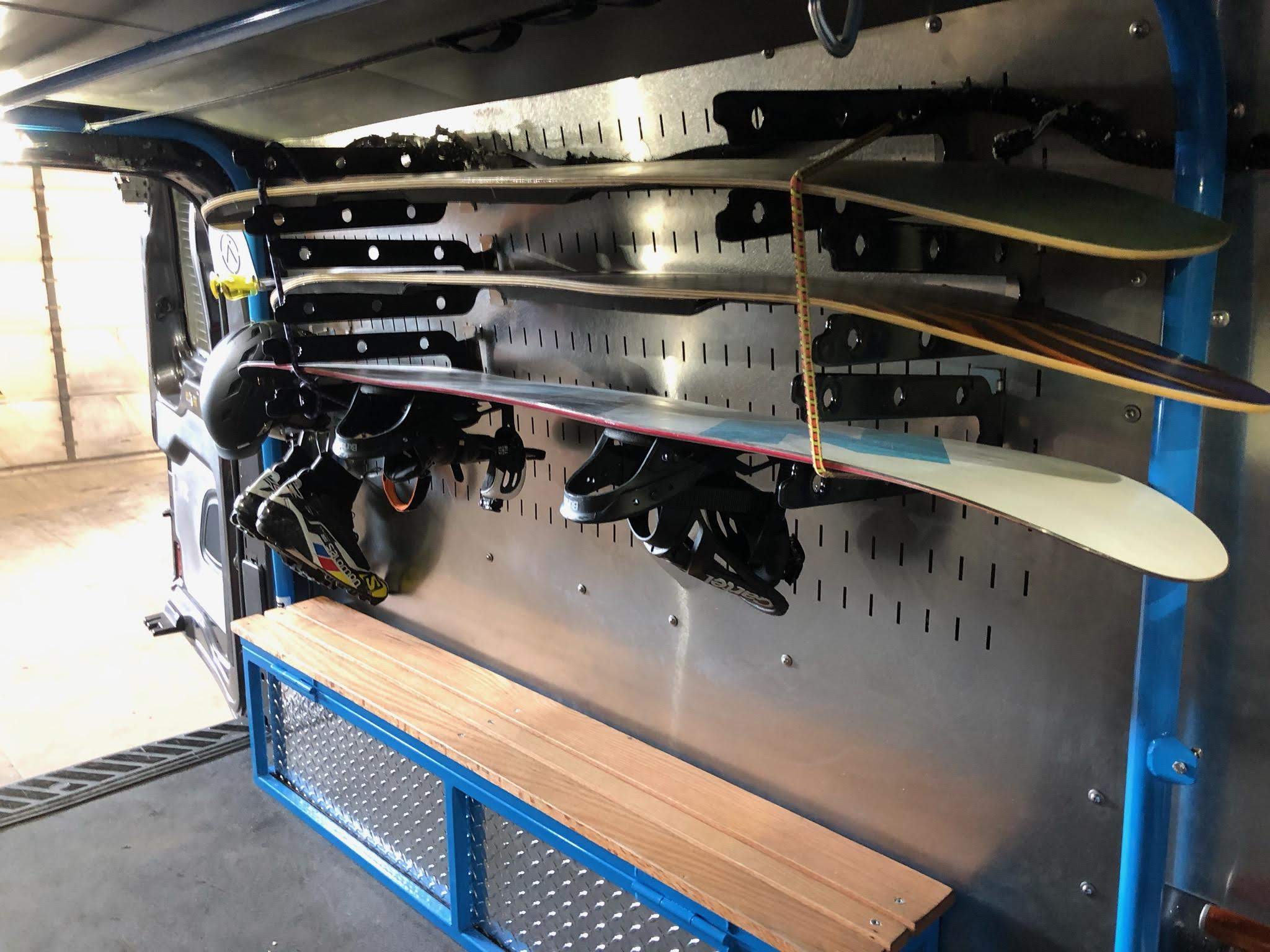 For work, Tim is on the road at least a couple days of the week, and even when he says here in Traverse City, he's usually running between the countless project Keen Technical Solutions has cooking in the area. That makes his Ford Quigley van, a 4x4, safari-ready behemoth, the headquarters of the company, his main office, and home-base for any activities Tim can squeeze into a busy day. And every afternoon, the Quigley turns into something a bit more domestic; it's how he picks up the kids, gets them to practices, gets the groceries, and gets everyone to the ski hill, all before dinner.
Obviously, having an organized van is key, and we've been chatting with Tim about getting his van fitted out with our stuff. While we eye-balled and schemed, Tim was quietly making a list of necessities. First, it had to be able to organize over a week's worth of clothes; before we got a hold of it, one of the seats was totally dedicated to a pile of questionably clean (or was it dirty?) spandex, jackets, gloves, and hats. Much of it was winter riding clothes, but there were plenty of snowboard clothes, too, and all of it only just beginning to omit a strong scent. It was, after all, Friday morning.
Second, it needed to organize at least a few snowboards. As a few of you pointed out, we didn't have a dedicated snowboard mount. Selfishly, that's because we just didn't really need one yet personally; we're all skiers! But Tim's need pushed the envelop, and our guys got to work. In no time, we had a few prototypes to test out. With just a few tweaks, we had our finished product (you'll see that online soon!).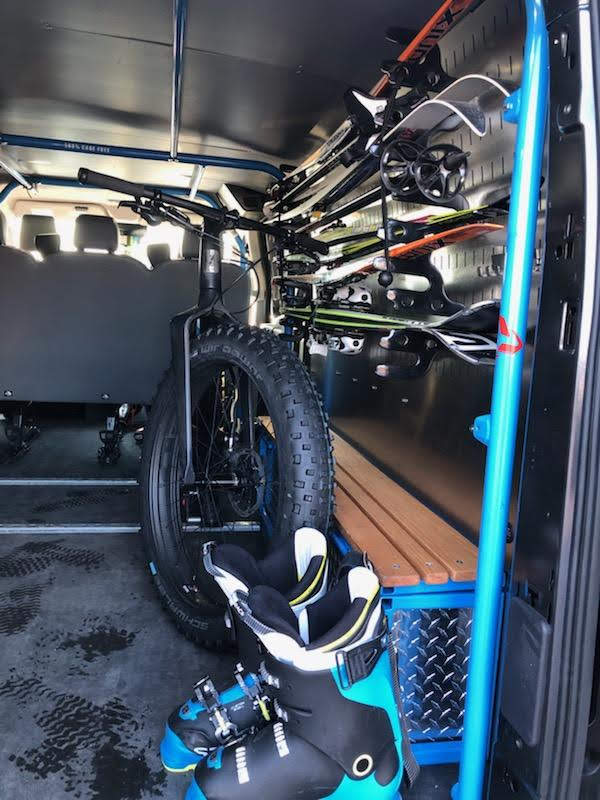 Third, Tim needs room for bikes. You never know when a ride can happen, and Tim travels everywhere with his road bike and mountain bike spring, summer, and fall. In winter, his fat bike slots into place alongside a few pairs of cross-country skis; he's known for riding our local groomed singletrack, swapping boots, and heading back out to skate ski the trails, too. The Quigley is big, but without messing with stem bolts and turning bars, the best way to store bikes is right on the floor with sturdy mounts. We stuck with the same idea Tim had already adopted, with room for up to four bikes if you really get serious about squeezing.
Finally, for those all day on the road, in the woods, and running across down, the Quigley needs a lot of power points. We didn't want to forget that the van is a mobile office, complete with WiFi and with an ever-revolving door of co-workers hopping in, hopping out, and settling down for road trips. Phones, computers, tablets all need to stay charged up, plus there's always the need to hook up Garmins, charge lights, and make sure the power meters are ready to rock, too. We added three more places to charge electronics, so everyone has a place to recharge.
In addition to those mounts, we also used two small benches Tim already had to provide more storage space. We filled in the gaps with some diamond plating and, boom, a big boost in organization without losing those handy little perches.
A lot of folks talk up the #vanlife and have some really cool set-ups that include beds, cupboards, even kitchens. For long trips and plenty of overnights, those are incredibly handy, and at some point that's a project we'd love to tackle for someone. But honestly, this is the type of thing we really appreciate, because it's so accessible. We're all busy, we all have jobs and families, and a two-week trip in the van isn't realistic. Instead, putting something together that's utilitarian but well-polished, resourceful without any frills, and organized without losing flexibility, well, that's exactly what all our products are designed to do. We want to make your everyday life less stressful and include more time riding, skiing, and getting outside. With the Quigley, Tim has a tool to work, to play, and to spend time with his family and friends with a bit fewer headaches.