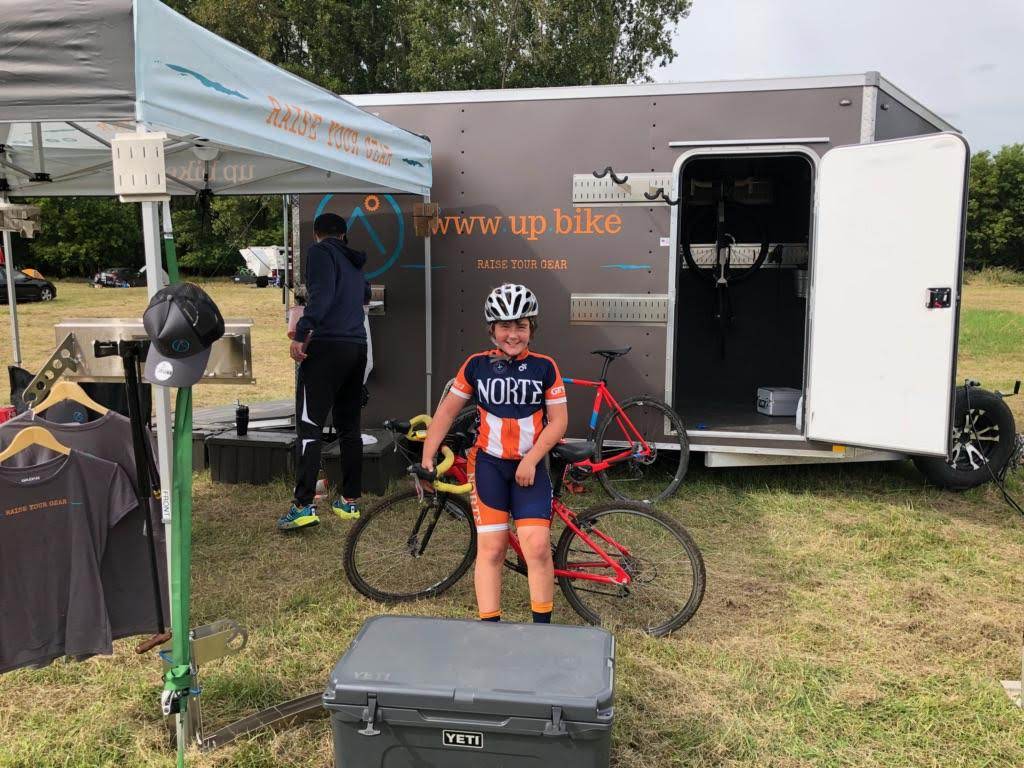 We loaded up the Adventure Hub and headed down to the Alma Grand Prix of Cyclocross to get the season kicked off right.
While cyclocross might be known for cold, mud, and wet weather, it's admittedly sort of nice to get back into the swing of things under sunny skies and wearing short sleeves. The Alma Grand Prix of Cyclocross has become the highly-anticipated kick-off of cyclocross in Michigan for the better part of a decade now, and it's early September has date has made for some famously bluebird days to help usher in the coming of cyclocross. It's one of the few events that really brings riders from all over the state and from all the regional series together for one big day of action, and this year's event did not disappoint.
We sent Dan and his kid, Grady, south for race day, and after loading up the Adventure Hub with samples of every mounts, tool, and accessory we make, plus a few neat things to hand out, they made the drive Friday night and joined a few dozen riders in camping out the night before the race in Alma. It also gave them a little extra quality time with the course, which included a massive sand pit for the very first time. It also boasted the up.bike stairs, a feature that may not have proved decisive in the races, but it certainly gave the more skillful riders a place to show their stuff lap after lap.
Race day saw a chilly start, but as the sun climbed high and the hundreds of racers started to trickle in, it warmed up for perfect bike racing conditions by the time the 9:30 morning races got under way. We split time between racing and cheering, with Dan taking on two races over the course of the day and Grady hoping into his first ever cyclocross race. While we weren't totally sure what Grady would think of barriers, we were relieved to see that he was head down, elbows out after his first lap. As he climbed off post-race, he was over the moon; he's hooked!
The Alma GP was also a great chance for us to show off our line-up of mounts and tools, plus a mobile, protype cyclocross barrier kit we're working on, just for fun. We had a chance to visit with dozens of racers throughout the afternoon and we're really happy we could answer questions, demo the mounts, and meet a lot of really cool people in the world of cycling.
There are a TON of great photos on the wall, with plenty more to come, on the Alma GP Facebook page.
We want to thank JB and all the volunteers who made the Alma GP a killer day on the bike, and we'll be back in 2019!