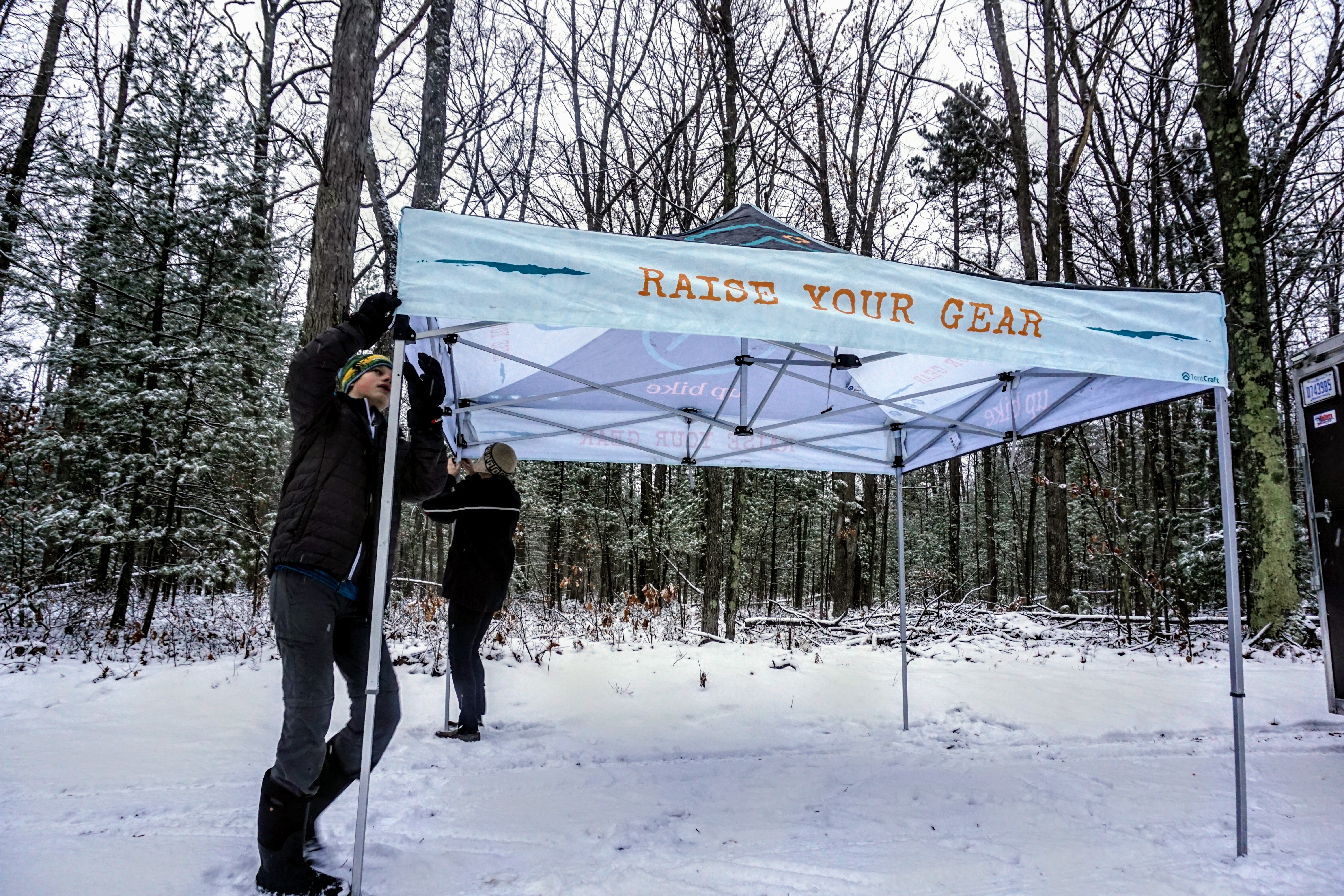 Late last week, the weather experts were predicting just a 20% chance of a white Christmas here in northern Michigan.We lucked out, and our first annual up.bike Christmas Ride rolled out on freshly fallen snow!
When we first got with the Dirt Church crew about teaming up for a holiday event, we all knew making any plans for late December was risky. In our part of the country, and especially this close to Lake Michigan, the weather is inherently unpredictable, varying by the hour and always changeable. Initially, we'd hoped to entice both fat bikers and skiers to the Vasa Singletrack Trailhead to include both sports. We've got a thriving winter sports community, and we'll definitely make sure to get everyone together, we didn't get quite enough snow for the skiers to join in.
With Christmas just two days away, we weren't sure who would join up Sunday, but as we popped the lid off the cookies and had a few sips of coffee, car after car rolled into. In total, over sixty riders made it out to enjoy a morning on the Winter Sports Singletrack, a trail system maintained by Northern Michigan Mountain Bike Association all year long. The groomers have had a relaxing winter so far, with the few inches of snow on the ground packed in by fat bike traffic, offering surprisingly good riding conditions even before our fresh snowfall last week.
On the ride, riders broke off into smaller groups, with some beginners sticking to a tidy three mile loop to stay close to the parking lot (and, we assume, the coffee and cookies) while others took in over 20 miles of riding in just over two hours. The new snow and great riding made it a fun morning and a great primer as we look ahead to a season that offers a much-appreciated change of pace...often slower.
We've got an album of photos here to flip through, and we want to thank everyone who joined us for the ride and checked out the Adventure Hub! We have some cool new products launching in 2019, and we're really happy we got to end 2018 with all of our local riding buddies.