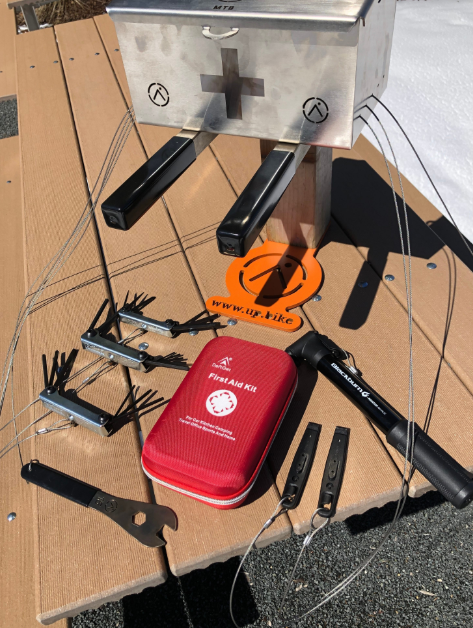 What's square, squat, and might save you from a long walk out of the woods? Our new Rescue Boxes, that's what.
We've had this idea for a long time, but only recently have we really worked to bring them to life. Every rider has certainly either experienced or heard about the long walk after a broken chain, a flat tire, or some other mechanical issue that you just didn't the the right tool or know-how to fix. While the trail head might have a pump or a rack of tools, or your pal might have the right spoke wrench in his garage, those things aren't very useful when you're deep in the forest and stranded.
In the hope of saving more folks from that day-wrecking disaster, we designed the Rescue Box. They're stocked up with the stuff you need to make a trail side repair. While you won't be doing a full bottom bracket overhaul, you will be able to get out of the woods. It includes every size hex, torque, and screwdriver you'll find on a bicycle, a mini pump, tire levers, a pedal wrench, and one of our ultra-handy Scout Tools. Since bikes aren't the only thing that can take a beating on the trail, we've also sourced a first aid kit.
After consulting with our local trail stewards, Northern Michigan Mountain Bike Association, we reached out to a few organizations who wanted to support these boxes. After picking some high-traffic trail intersections that see a lot of riders but are a long ways from the parking lot, we have each of our three locations covered. It's a model we're hoping to bring to more trails across Michigan and the country. They're a great way for trail associations to offer their trail users an added degree of safety and connect with new trail supporters as well.
In just a few weeks, we'll bring you a cool look at how these Rescue Boxes are installed and feature some of the folks who helped bring them to life over the past two months. Want to bring a Rescue Box to your neck of the woods? Let us know!