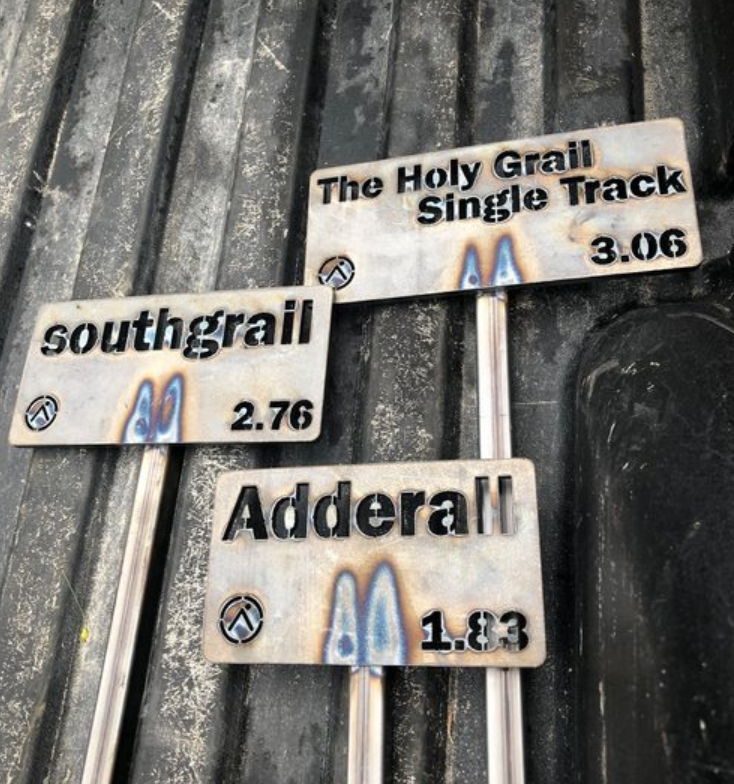 Do you actually know where you're at? Do you actually know what trails your buddies are talking about? When you're sending volunteers out, or even search and rescue, does your way-finding hold up to real life?
Enough questions to start an infomercial, we know. But they're pretty real problems for trails across the country. What we call our trails serves a practical and important purpose, one that can have a big impact on everything from trail maintenance to reaching injured trail users. There's also just the day-to-day miscommunication of referring to sections of trail by real names.
Traditional post markers and map kiosks are huge, obviously. But those don't do much to fill in the gaps, or help identify unmarked trail systems that are off the beaten path. In our backyard, we have nearly 100 miles of trails without a sign. As a result, these trails grew to earn their own charming, tongue-in-cheek names that existed almost exclusively on Strava. Those segments became linchpins for riders looking to explore and link up the dozens of loops within the trail system. Anchors like "White Gold", "Samurai Squirrel", and "Ditch Pickle" were always talked about at the trailhead, but once you left the parking lot or put down your phone, they essentially disappeared.
We fixed that. Taking the data from Strava and hitting the woods, we created these custom Segment Markers to show everyone where the trails are and to start helping them piece it all together. Whether titled based on Strava segments, community partners and sponsors, or the traditional names of trails as your riders refer to them, they bring a really cool-looking way to add elements of both entertainment and safety to the woods.
One thing we've learned is that a great name doesn't just draw a smirk. The best named trails draw a crowd; people seek out "Ditch Pickle" because, well, who wouldn't want a picture next to a sign that says "Ditch Pickle"? For trail associations looking to garner a larger following, add some character to the trails, and offer visiting riders something almost tangible to remember, these signs are essentially a marketing arm to show your members what you're up to. They're a perfect sponsorship opportunity, which only helps trails across the country offer riders more.
Winter is a really good time to take a look at your way-finding set-up and make tweaks. No matter what your idea, we can help you create custom signs that match the look and vibe of your trail system. Got a few good trail names to share? Send them our way, or post them in the comments! Shop the signs here.